Bora to re-open door for pro cycling in Germany?
Cooking systems company announced as new title sponsor for NetApp-Endura for the next five years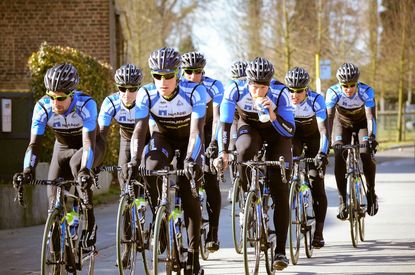 German company Bora was announced as the new title sponsor of the NetApp-Endura team, effective from January 1, 2015, at a rest-day press conference on the Tour de France today.
The deal, that will run for five years, is the first time a German company has sponsored a German team since Milram in 2010.
German cycling fans will be hoping the deal will start a slow improvement for the sport in their country following a difficult six-year period since T-Mobile ended it's sponsorship. The telecommunications giant initially stood by its team through the doping scandals in 2006 that implicated many of it's riders, but pulled out completely (although leaving newly instated boss Bob Stapleton with a budget big enough to continue running the team for several years) at the end of 2007.
Milram remained in the peloton until 2010 when they left with a whimper and a poor palmares.
Since then German TV channel ZDR dropped its Tour de France rights deal - depriving the race of one of it's biggest European audiences - and no other broadcaster has since taken on the rights.
On the road the German fans have a lot to cheer about. The nation has won five out of ten stages this year with three wins for Marcel Kittel, and one for both Andre Greipel (stage 6) and Tony Martin (stage 9).
The Bora team (its nomenclature is yet to be confirmed) is likely to strengthen its German identity next year - NetApp is an American data storage company and Endura a Scottish clothing brand - and will remain ProContinental in 2015 and 2016. It plans to move up to WorldTour status in 2017.
Thank you for reading 20 articles this month* Join now for unlimited access
Enjoy your first month for just £1 / $1 / €1
*Read 5 free articles per month without a subscription
Join now for unlimited access
Try first month for just £1 / $1 / €1