Court of Arbitration for Sport to rule on Peter Sagan's Tour de France disqualification
Sagan's Bora-Hansgrohe team have appealed to sport's ruling court to decide on the validity of his disqualification from the Tour de France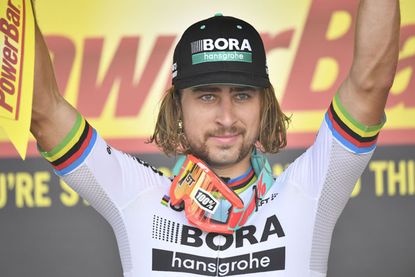 (Image credit: Yuzuru SUNADA)
Sport's high court, the Court of Arbitration for Sport (CAS), in Switzerland is due to rule soon on the validity of Peter Sagan's disqualification from the Tour de France.
>>> UPDATE: Court of Arbitration for Sport upholds Peter Sagan's disqualification from Tour de France
The world champion of team Bora-Hansgrohe was disqualified by the UCI race jury after an irregular sprint at the end of stage four in Vittel that saw Mark Cavendish (Dimension Data) crash and break his shoulder blade.
"There is no news on the appeal, we are thinking it wasn't the right decision from the jury," Bora-Hansgrohe sports director Enrico Poitschke told Cycling Weekly.
"It's in their hands, we can't change it, but we are looking forward [to a decision]."
The German team launched an express appeal with the high court entrusted with ruling on situations within various sports.
After the UCI jury decision to boot Sagan out of the Tour de France, around 18.55, local time, Bora-Hansgrohe lawyers contacted CAS.
It is believed that they appealed the following morning before the race took off from Vittel for stage five.
CAS had yet to respond with a ruling date when this article was written.
Bora-Hansgrohe have kept Sagan's Specialized bike lined up outside their black bus with the other eight in "a show of defiance" against the jury's decision.
It is unclear what would happen if the CAS rules in favour of the world champion.
It seems impossible that he could be put back into the Tour de France after already missing two stages, but there is an air of hope around team Bora-Hansgrohe.
"No, we don't know," Poitschke said on Sagan returning to the Tour. "It's not in our hands and we don't know."
The German team released a statement on the matter on Thursday afternoon, where they unequivocally said they would like to bring Sagan back into the Tour de France should a CAS decision go their way.
"The Team and Peter Sagan would like to reiterate their position that Peter Sagan did not cause, let alone deliberately, the fall of Mark Cavendish on the last 200m of the fourth stage on July 4, 2017. Peter Sagan stayed on his line and could not see Mark Cavendish on the right side," the statement read.
Although the UCI Cycling Regulations provide unambiguously that it is mandatory to hear a rider before any disciplinary decision is taken (Rule 12.2.006: "The Commissaires Panel may judge the matter only if the offending party has had a chance to defend his point of view […]"), Peter Sagan has not been given an opportunity to explain to the "Commissaires Panel" his point of view.
"If the motion to suspend, on which the CAS will have to decide now, is granted, Peter Sagan will immediately re-engage in the Tour and, together with the team Bora-Hansgrohe, compete for a successful Tour de France 2017.
Thank you for reading 20 articles this month* Join now for unlimited access
Enjoy your first month for just £1 / $1 / €1
*Read 5 free articles per month without a subscription
Join now for unlimited access
Try first month for just £1 / $1 / €1