Bora-Hansgrohe make official protest against Peter Sagan's disqualification from Tour de France
The German team say they completely disagree with the commissaires decision to throw Sagan out of the race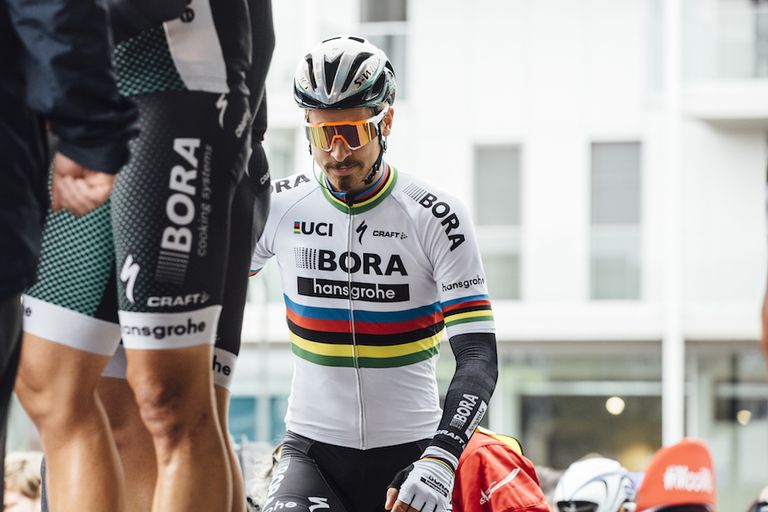 Peter Sagan's Bora-Hansgrohe team say they have made an official protest to the UCI about the expulsion of the world champion from the 2017 Tour de France.
Sagan was disqualified from the Tour after stage four for "very serious manoeuvre in the sprint" in the final 250m of the race to Vittel, which resulted in Mark Cavendish (Dimension Data) crashing against the barriers and to the floor.
>>> The UCI race jury explains decision to disqualify Peter Sagan from the Tour de France
Cavendish has subsequently been forced to retire from the Tour after x-rays revealed he had broken his shoulder.
Initially, stage three winner Sagan was given a 30 second time penalty and handed a 80 point deduction in the green jersey standings.
But complaints from Dimension Data saw the race jury reassess the incident and they decided to disqualify the Slovakian.
On Tuesday evening, shortly after Cavendish was confirmed out of the race, Bora released a statement saying they had made an official protest to the UCI.
"The UCI World Champion Peter Sagan was disqualified today, according to article 12.1.040/ 10.2.2. (irregular sprint) in the result/communiqué. The team disagrees with the decision and protested it officially," the statement rad.
"Peter Sagan rejected to have caused, or in any way intended to cause the crash of Mark Cavendish on the final 200m of the stage. Peter stayed on his line in the sprint and could not see Cavendish on the right side.
"The team applied for a redress of Peter Sagan's result in stage four."
The German squad's protests are likely to come to naught however, with the UCI regulations clearly stating that decisions can not be appealed.
Rule 12.2.007 of the cycling regulations says that "decisions handed down by the commissaires are final and not open to appeal."
Sagan, for his part, says he didn't have time to react in the incident which saw Cavendish try to pass him on the right hand side of the road as the race's leading sprinters fought for position.
"In the sprint I didn't know that Mark Cavendish was behind me," Sagan said.
"He was coming from the right side, and I was trying to go on Kristoff's wheel. Mark was coming really fast from the back and I just didn't have time to react and to go left.
"He came into me and he went into the fence. When I was told after the finish that Mark had crashed, I went straight away to find out how he was doing.
"We are friends and colleagues in the peloton and crashes like that are never nice. I hope Mark recovers soon."
Richard began working with Cycling Weekly in 2013 alongside the then web editor, Nigel Wynn. Taking over as digital editor or Cycling Weekly and mbr in 2014, Richard coordinates site content and strategy with the team.