Kolobnev tests postive at Tour de France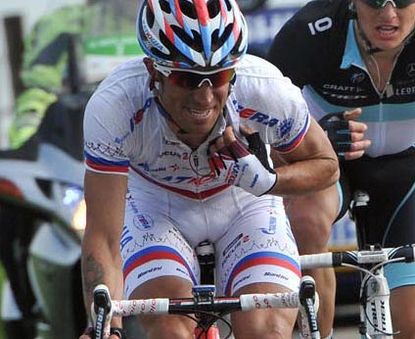 Russian Alexandr Kolobnev of the Katusha team has failed a test for banned substance hydrochlorothiazide at the Tour de France. According to the team, Kolobnev has 'suspended himself' and will not continue in the race.
An in-competition urine sample taken from Kolobnev on Wednesday, July 6, produced an adverse analytical finding for hydrochlorothiazide at the Châtenay-Malabry laboratory, according to a Union Cycliste Internationale (UCI) statement issued on Monday evening.
Although the UCI cannot impose a provisional suspension at present, the organisation has left it in the hands of the Katusha team to deal with the matter accordingly.
Beijing Olympic Games road race bronze medallist Kolobnev has four days in which to request the analysis of his B sample.
Hydrochlorothiazide is a diruetic and has been used in the past by unscrupulous athletes as a masking agent for other banned performance-enhancing substances, such as steroids. Hydrochlorothiazide, along with other diuretics, is listed in the World Anti-Doping Agency 2011 prohibited substance list.
Kolobnev is currently 69th in the 2011 Tour de France general classification. His is the only positive anti-doping test announced so far at this year's race.
The full UCI statement reads:
Earlier today, the UCI advised the Russian rider Alexandr Kolobnev of an Adverse Analytical Finding (presence of Hydrochlorothiazide based on the report from the WADA accredited laboratory in Châtenay-Malabry) in the urine sample collected from him at an in competition test at the Tour de France on 6 July 2011. Mr. Kolobnev has the right to request and attend the analysis of his B sample.
The UCI Anti-Doping Rules do not provide for a provisional suspension given the nature of the substance, which is a specified substance.
However the UCI is confident that his team will take the necessary steps to enable the Tour de France to continue in serenity and to ensure that their rider has the opportunity to properly prepare his defense in particular within the legal timeline, which allows four days for him to have his B sample analyzed.
Under the World Anti-Doping Code and the UCI Anti-Doping Rules, the UCI is unable to provide any additional information at this time.
Tour de France 2011: Related links
Tour de France 2011: Cycling Weekly's coverage index
Thank you for reading 20 articles this month* Join now for unlimited access
Enjoy your first month for just £1 / $1 / €1
*Read 5 free articles per month without a subscription
Join now for unlimited access
Try first month for just £1 / $1 / €1