Sky sticks with 2013 Tour de France-winning bikes
Team Sky have begun the season riding exactly the same model Pinarello bikes as they did in 2013. Are they exactly the same? We asked mechanic Alan Williams to spill the beans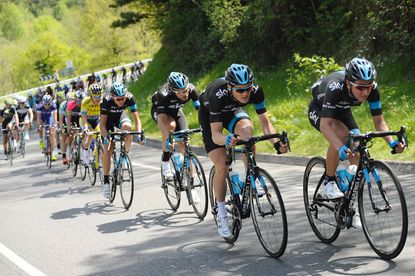 Get The Leadout Newsletter
The latest race content, interviews, features, reviews and expert buying guides, direct to your inbox!
Thank you for signing up to The Pick. You will receive a verification email shortly.
There was a problem. Please refresh the page and try again.
Team Sky mechanic Alan Williams reflects briefly. "The only things that have changed from last year are the US-designed Stages power crank and the Stages head unit. And we're using Wahoo turbo-trainers for the warm-up — another Coloradan company. Other than that, the bikes are the same as last year." Well, this is going to be a short article…
Watching Williams beaver away in the Sky truck you are struck by how methodically he goes about every task, from washing to lubing to winding on new bar tape and checking tubulars for cuts.
Given that the 31-year-old spends months of his life in and around the truck and has been a professional mechanic for over 10 years, this shouldn't be a surprise, but his unhurried focus among the hanging racks of bikes and banks of tools — and laptops for electronic shifting Di2 diagnostics — is impressive.
Like every other modern team, the data from all the riders and bikes is stored and shared among the relevant staff on a computer (with back-ups) so that should Williams or any other mechanic need to build a bike from scratch, every measurement is on hand.
"I can build a bike in about two hours, but it's not the actual building that takes the time, it's the measuring and making sure that everything is where it needs to be — from brake lever position, bar height, stem washers, saddle layback, everything. It's not about how quick you can do the job, it's about how well you do it," states Williams.
Happily for all concerned, there are a couple of tweaks to bikes which, in a team which introduced the phrase 'marginal gains' to the wider world outside of GB track cycling, are almost inevitable.
We spoke to the affable Mancunian as he prepared the Team Sky bikes before Liège-Bastogne-Liège, during the course of which he was called by Chris Froome who needed a bit of mechanic-type advice on gear adjustment on his spare bike at home. Clearly, his skills with the spanners has Froome's confidence, so Williams must be doing something right.
Speaking of Froome, it was actually on his road bike that the 'changes' manifested themselves. Froome is the only rider on Team Sky who uses the French designed and manufactured Osymetric chainrings, but the French designer, Jean-Louis Talo, has made some alterations to the rings, partly at the behest of Froome.
Unlike other modern chainrings, the original Osymetric design had no ramps or pins to help with the upshift from small to large chainring. This year, Talo has designed and machined ramps to smooth out the shifting.
"It isn't about how quick you do the job, it's about how well you do it"
Williams approved: "Obviously there are always going to be situations with every design where the risk of chainsuck or a dropped chain will be an issue, although I'd say with the normal Shimano Dura-Ace it's 99 per cent reliable.
With the Osymetric, I'd say it was 92 or 93 per cent. The other thing that's changed is that the rings are now stiffer, they're less flexible than they were before, which has to be a good thing when it comes to not wasting energy."
Hot wax
There was one other not-so-insignificant change made to Froome's bike. Which was that Froome was testing and riding a 34-tooth chainring, a size that is not only used on compact chainsets but is also entering the world of mountain bike racing.
"It's not that much of an issue from a mechanical point of view, the chainring diameter is just a little bit smaller than a 39, so the shifting and front mech trim won't change. But a 34 ring in road racing eh?" mused Williams, a former mountain bike mechanic and still a follower of the off-road sport.
From his mechanic's point of view, the switch from SRM to Stages power measuring had made his life and that of the other mechanics on the team less complicated.
"The only thing we need to worry about is to make sure that the crank bolts are torqued to 13N/m, no more, no less. There are strain gauges in the left crank that are calibrated based on that number, so we check them after every ride.
"We haven't had any issues with them, not any more than we did with the other system — so that sometimes when the TV helicopter and camera bikes get really close there's sometimes some interference, but I think that depends on the frequency they're using.
Overall though we've had no issues and the Stages guys are really keen and always wanting to hear feedback because it is a new product and they are trying toimprove it."
There has to be one top-secret change though, Alan, there must be. "Well, we're actually testing some chain wax. It comes as a solid block, you heat it up till it melts then drop the chain in it, take it out and let it dry to a light film.
There's that, though everything is still at the development and testing phase." So there you go, Team Sky's latest marginal gain — wax. Remember you read it here first.
Sky will 'keep trying and catch Kittel off guard' in fight for Giro d'Italia stage wins
Anarchic nature of this year's Paris-Nice route means that Sky will have a tough job controlling the race lead
Those who follow teams and riders on Twitter will probably have spotted the hashtag #SKYvOGE. Is it serious? How serious?
Thank you for reading 20 articles this month* Join now for unlimited access
Enjoy your first month for just £1 / $1 / €1
*Read 5 free articles per month without a subscription
Join now for unlimited access
Try first month for just £1 / $1 / €1
Get The Leadout Newsletter
The latest race content, interviews, features, reviews and expert buying guides, direct to your inbox!