Alex Dowsett: Tour of Britain stage five 'the best club 10 I've ever done'
The British rider could only managed ninth on the stage, but said he relished the opportunity to ride a pro time trial in his home county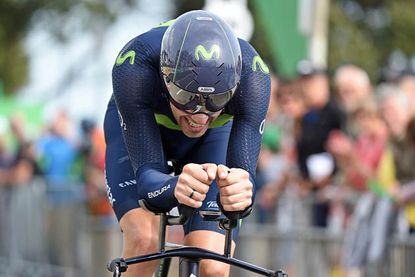 (Image credit: Andy Jones)
Essex rider Alex Dowsett hailed his ninth place time trial ride in Clacton-on-Sea at the Tour of Britain as "the best club 10" he'd done.
The Movistar rider placed ninth 21 seconds behind eventual winner Lars Boom (LottoNL-Jumbo), who set a time of 19-02 over the 10 mile course – which had been dubbed the "Club 10 World Championships" by British riders.
When asked for his assessment Dowsett said: "That was pretty good from me all things considered. Numbers wise that's the best club 10 I've done. It was around 438watts, which is pretty good from me.
>>> Bike Channel on the brink of closure after failing to find a buyer
The former British TT champion said he "went out hard" even though he knew the return leg of the course was into a headwind on the exposed seafront.
He said: "It is one of the toughest wind directions to pace because you have to go out hard but then you do have to leave something for the return, but if you go out too easy it doesn't matter how fresh you are - averaging 30mph into a headwind is nigh on impossible."
The 28-year-old went on to say there had been a pang of disappointment when he crossed the line to see he wouldn't win the race.
"You do want to be leading, obviously, you want to cross the line knowing your first but look at the riders here. You've got a field here where top 10 is a struggle.
Watch: Dr Hutch meets Alex Dowsett
"Off the top of my head, we're only missing Tom Dumoulin, Chris Froome and Rohan Dennis and you've got a World Championship field. Only the Tour de France or the World Champs might rival this."
Dowsett said the day, racing on roads not far from his local Maldon & District CC club 10 flanked by supporters cheering his name had been "an emotional day" that was likely to be "once in a lifetime".
"My girlfriend got to go in the team car and half way through the race she came on the radio and said 'You've got this'. I did it for her, my family, cousins, aunties, uncles, friends, even the British representatives from Canyon who I'm good friends with," he said.
He admitted that he was "a bit jittery" at the start from the pressure of the occasion but said he felt that he had handled it well and had spent most of his career dealing with pressure ahead of time trials.
He added: "In the recce I went round the first corner and my wheel slid I caught it but it scared me a bit. I imagine everyone in that race will come out thinking they could have got a second or two there with the corners."
"Tomorrow we're not a million miles away from my home in Newmarket and that's going to be special as well," he added.
Thank you for reading 20 articles this month* Join now for unlimited access
Enjoy your first month for just £1 / $1 / €1
*Read 5 free articles per month without a subscription
Join now for unlimited access
Try first month for just £1 / $1 / €1