UCI confirms Vuelta a San Juan winner Gonzalo Najar's positive test for CERA
Najar's team-mate Gaston Javier also fails anti-doping control for Anabolic Androgenic Steroids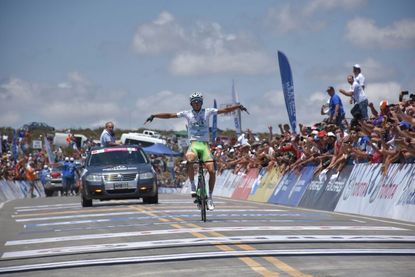 (Image credit: Vuelta a San Juan)
The UCI confirmed on Monday that 2018 Vuelta a San Juan winner Gonzalo Najar (SEP de San Juan) has tested positive for illegal blood booster CERA.
Najar tested positive for for the form of EPO, Continuous Erythropoiesis Receptor Activator, known as CERA, in a sample collected on the opening day of the Argentinian stage race in January.
The 24-year-old surprised the big name riders at the early season race as he rode away and won the mountain top finish of the queen stage by nearly two minutes, helping him secure the overall.
Rumours of Najar's positive sample spread soon after the conclusion of the race, with the race's official Twitter feed publishing, and quickly deleting, a message in February saying a doping positive would be revealed soon.
At the weekend, reports circulated again of the positive test, with the UCI confirming it on Monday morning.
Najar's team-mate and fellow Argentinian Gaston Javier, who helped him to victory in San Juan, also tested positive for Anabolic Androgenic Steroids in a sample collected two days after Najar's at the race.
Both riders have now been provisionally suspended, and the right to request and attend the analysis of their B samples.
Their team, SEP de San Juan, will face a suspension from the UCI because of the two positive tests within 12 months. Article 7.12.1 of the UCI Anti-Doping Rules obliges a suspension of the team from 15 days to 45 days, which has yet to be decided by the Disciplinary Commission.
The UCI also said in a statement that the tests carried out were "intelligence-led" and planned by the Cycling Anti-Doping Foundation (CADF).
The pair aren't the first to receive a suspension for a positive test at the 2018 race, with Uruguay National Team rider Ignacio Maldonado testing positive for CERA after the first stage of the race. He was provisionally suspended in March after the UCI confirmed the positive test.
Thank you for reading 5 articles this month* Join now for unlimited access
Enjoy your first month for just £1 / $1 / €1
*Read 5 free articles per month without a subscription
Join now for unlimited access
Try first month for just £1 / $1 / €1