Video emerges of Sergio Paulinho's Vuelta a España moto incident
Tinkoff-Saxo rider collides with moto during stage 11 of Vuelta a España and remains upright despite injury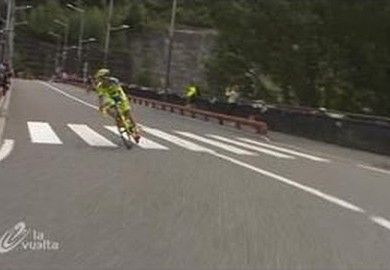 Film of Tinkoff-Saxo rider Sergio Paulinho colliding with a television motorbike during stage 11 of the Vuelta a España has been published on the internet.
The footage - shot by a cameraman on the bike involved in the incident - clearly shows the 35-year-old Portuguese Tinkoff-Saxo rider sweeping around a right-hand bend and clipping the bike. Amazingly, he managed to stay upright.
Paulinho can be heard shouting loudly to the moto pilot after the incident, and as the bike passes him you can see Paulinho slow down as he realises he has been injured. He subsequently called for medical assistance, and attempted to continue the stage but was forced to withdraw from the race before the summit of the first climb.
Cycling Weekly photographer Graham Watson's moto pilot, Luke Evans, witnessed the incident, saying: "Paulinho cannoned into the TV bike, but was trying to correct his line on that bend and therefore could not avoid the motorcycle."
>>> 'As a moto rider on the Vuelta, I feel like a pariah right now'
According to the Tinkoff-Saxo team, Paulinho required 17 stitches in his leg when taken to hospital - six internal to close up an artery and 11 external.
Tinkoff-Saxo branded the motorcycle pilot's behaviour as 'reckless' and the moto's position in the road as 'in breach of safety regulations'.
Paulinho was the second of the squad's riders to be involved in a collision with a moto and withdraw from the race after a similar incident involving Peter Sagan.
The team met with race organisers and UCI representatives ahead of Thursday's stage 12 to receive assurances that rider safety would be improved in relation to motorbikes within the race. A list of safety measures was implemented immediately, and the UCI has said that it will be introducing new regulations governing in-race vehicles for 2016.
Thank you for reading 20 articles this month* Join now for unlimited access
Enjoy your first month for just £1 / $1 / €1
*Read 5 free articles per month without a subscription
Join now for unlimited access
Try first month for just £1 / $1 / €1