Where to watch the Vuelta a España 2015
British Eurosport provide live coverage of the Vuelta a España, while ITV4 will broadcast highlights every evening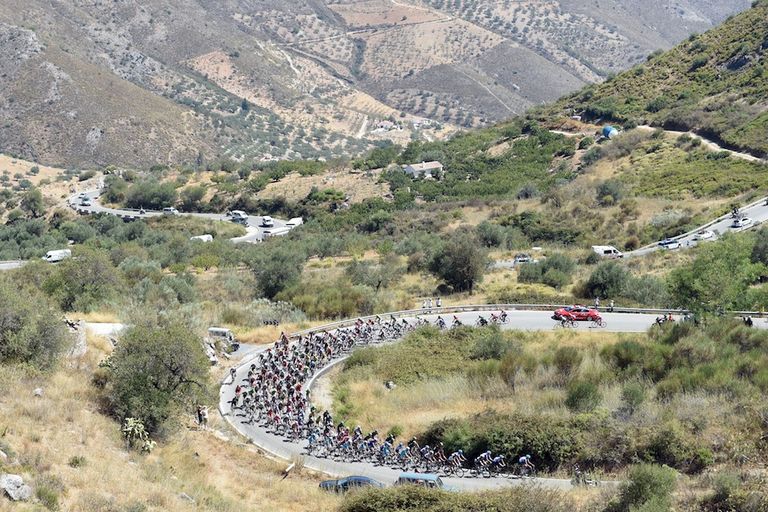 (Image credit: Watson)
The third Grand Tour of the season promised to be a cracker, with a start list almost as strong as that of the Tour de France. Nairo Quintana, Chris Froome, Alejandro Valverde and Vincenzo Nibali were all set to lock horns once more, while Peter Sagan and John Degenkolb resumed their battle from the Tour.
However, things didn't quite pan out that way. Nibali was ejected from the race on stage two for taking illegal assistance from his team car. Then on stage eight, Sagan was knocked off by a race motorbike and forced to retire from the race as a result of his injuries — and Froome joined the list of retirees after the gruelling stage 11.
As usual, British Eurosport have live coverage of every stage as well as highlights smattered throughout the three weeks, while ITV4 also provide highlights of each stage in the early evening.
These timings are open to change.
Thursday, September 3 - Stage 12: Escaldes - Engordany. Andorra to Lleida
Live coverage
British Eurosport 2: 15:00-16:45
Highlights
ITV4: 19:00-20:00
British Eurosport 2: 23:30-00:30
Friday, September 4 - Stage 13: Calatayud - Tarazona
Live coverage
British Eurosport 2: 15:00-16:45
Highlights
ITV4: 22:00-23:00
British Eurosport 2: 23:30-00:30
Saturday, September 5 - Stage 14: Vitoria - Fuente del Chivo (summit)
Live coverage
British Eurosport: 15:00-16:45
Highlights
ITV4: 19:00-20:00
British Eurosport 2: 23:00-00:30
Sunday, September 6 - Stage 15: Comillas - Sotres (summit)
Live coverage
British Eurosport: 15:00-16:45
Highlights
ITV4: 18:25-19:30
British Eurosport 2: 20:00-21:30
Monday, September 7 - Stage 16: Luarca - Ermita del Alba (summit)
Live coverage
British Eurosport: 15:00-16:00
Highlights
ITV4: 19:00-20:00
British Eurosport 2: 19:30-21:00
Tuesday, September 8 - rest day
Wednesday, September 9 - Stage 17: Burgos - Burgos (ITT)
Live coverage
British Eurosport: 15:00-16:45
Highlights
ITV4: 19:00-20:00
British Eurosport 2: 19:30-21:00
Thursday, September 10 - Stage 18: Roa - Riaza
Live coverage
British Eurosport: 15:00-16:45
Highlights
ITV4: 19:00-20:00
British Eurosport 2: 19:30-21:00
Friday, September 11 - Stage 19: Medina del Campo - Avila
Live coverage
British Eurosport: 15:00-16:45
Highlights
ITV4: 19:00-20:00
British Eurosport 2: 19:30-21:00
Saturday, September 12 - Stage 20: San Lorenzo de El Escorial - Cercedilla
Live coverage
British Eurosport: 11:45-16:45
Highlights
ITV4: 19:00-20:00
British Eurosport: 23:45 - 01:00
Sunday, September 13 - Stage 21: Alcalá de Henares - Madrid
Live coverage
British Eurosport: 16:00-17:30
Highlights
ITV4: 22:00-23:00
British Eurosport: 22:30-00:00
Sunday, September 13 - La Course by La Vuelta
British Eurosport: 14:00-16:00