Lizzie Armitstead and Marianne Vos among strong start list for 2016 Aviva Women's Tour
The Women's WorldTour race returns for its third edition in 2016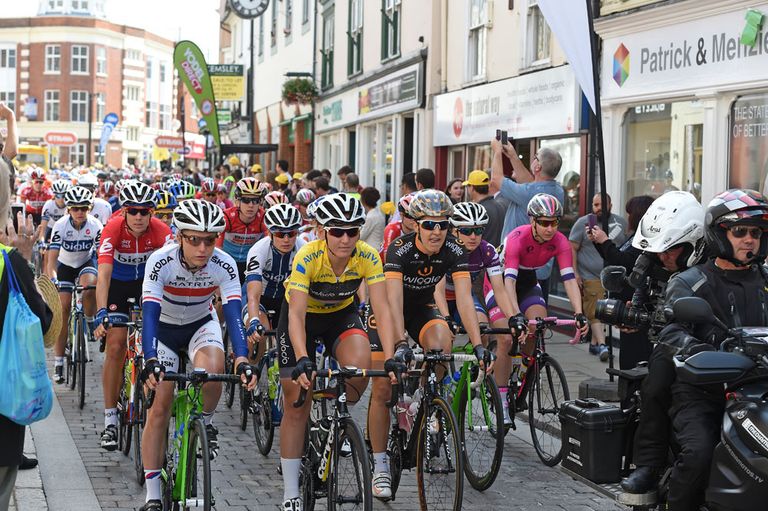 (Image credit: Andy Jones)
The Aviva Women's Tour begins Wednesday (June 15) and is set to have the strongest field in its three year history.
The provisional start list was published on Tuesday and includes the likes of Britain's Lizzie Armitstead (Boels-Dolmans) and multiple world champion Marianne Vos (Rabo-Liv), who won the first edition of the race in 2014, and is returning after injury.
The tenth round of the Women's WorldTour will also feature last year's winner, German former world time trail champion, Lisa Brennauer competing for her Canyon-Sram team, where she will be joined by Hannah Barnes, returning for her first British race since winning the final stage of the 2015 race.
Barnes' younger sister Alice, who has dominated the Tour Series races so far this year, will ride for British team Drops Cycling Team. Wiggle-High5's Lucy Garner is likely to miss the event after breaking two ribs in a Belgian race last Sunday, though her sister will be the youngest rider on the start line, representing Great Britain.
Also on the national team is Emma Pooley. The former world time trial champion left the world of professional cycling in 2014 to pursue a career in triathlon, but has been tempted back to cycling by an Olympic time trial course which perfectly suits her attributes and skills.
Watch: Canyon/Sram pro bike
There race will be won and lost on the second, third and fourth stages, which are hillier and more challenging than in previous editions. It is here that the likes of Armitstead, Vos and Johansson will battle for the general classification.
Since having a week off and a strong showing in the Tour de Yorkshire, Armitstead has been at home training, though showed well to win the Boels Rental Hills Classic last month, dropping Vos on the final climb and winning a three up sprint.
Boels-Dolmans bring a strong team to support the world champion, including 2015 stage winner Christine Majerus, 2013 time trial word champion Ellen van Dijk and Nikki Harris who will race through the Derbyshire she grew up in.
Vos lost 2015 to injury, but has bagged some good victories since returning to racing in March, however, she is yet to win on a lumpy course against top opposition.
She will be ably supported by Anna van der Breggen who has been altitude training in preparation for a defence of her Giro d'Italia title and, of course, the Olympics. Though Van der Breggen's spent does not match Armitstead's or her esteemed team mate, her strength in the hills should see her do well.
Consistent on any course, Swedish champion Emma Johansson all lead a strong Wiggle-High5 team team keen for success in their home race. Johansson list second on the WorldTour standings and will have Elisa Longo-Borghini, second in Sunday's Philadelphia International Cycling Classic as support.
Top Briton at that race was Dani King, whose recent form proves she can be up there on next week's parcours.
The race is bookended by likely sprint stages, where Barnes senior is likely to be hoping for success, though she will need to overcome this year's form sprinter Dutch woman Kirsten Wild, riding for Norwegian team Hitec Products.
Wiggle-High5's Belgian national champion Jolien D'hoore won Stage two into Clacton last year and will also be strong despite her preparations for the track events in Rio, and Finnish champion Lotta Lepsstö who's developed a strong sprint this year with Cervelo-Bigla.
Provisional start list
Canyon/Sram Racing
DS: Ronny Lauke
1 Lisa Brennauer GER
2 Alena Amialiusik BLR
3 Hannah Barnes GBR
4 Elena Cecchini ITA
5 Tiffany Cromwell AUS
6 Barbara Guarischi ITA
Wiggle High5
DS: Egon Van Kessel
11 Emma Johansson SWE
12 Jolien D'Hoore BEL
13 Giorgia Bronzini ITA
14 Dani King GBR
15 Elisa Longo Borghini ITA
16 Amy Pieters NED
Boels Dolmans Cycling Team
DS: Danny Stam
21 Lizzie Armitstead GBR
22 Chantal Blaak NED
23 Amalie Dideriksen DEN
24 Ellen Van Dijk NED
25 Nikki Harris GBR
26 Christine Majerus LUX
Alé Cipollini
DS: Fortunato Lacquaniti
31 Marta Bastianelli ITA
32 Annalisa Cucinotta ITA
33 Emilia Fahlin SWE
34 Małgorzata Jasińska POL
35 Marta Tagliaferro ITA
36 Anna Trevisi ITA
Team Liv Plantur
DS: Hans Timmermans
41 Molly Weaver GBR
42 Leah Kirchmann CAN
43 Floortje Mackaij NED
44 Sara Mustonen-Lichan SWE
45 Rozanne Silk NED
46 Carlee Taylor AUS
UnitedHealthcare Pro Cycling
DS: Rachel Heal
51 Linda Villumsen NZL
52 Annie Ewart CAN
53 Katie Hall USA
54 Coryn Rivera USA
56 Iris Slappendel NED
Poitou-Charentes Futuroscope86
DS: Nicolas Marche
61 Roxane Fournier FRA
62 Coralie Demay FRA
63 Eugénie Duval FRA
65 Pascale Jeyland FRA
66 Amélie Rivat FRA
Orica AIS
DS: Gene Bates
71 Amanda Spratt AUS
72 Gracie Elvin AUS
73 Alex Manly AUS
74 Loren Rowney AUS
75 Sarah Roy AUS
76 Taylor Wiles AUS
Cervelo Bigla Pro Cycling
DS: Thomas Campana
81 Lotta Lepistö FIN
82 Clara Koppenburg GER
83 Ashleigh Moolman Pasio RSA
84 Joelle Numainville CAN
85 Stephanie Pohl GER
Rabo Liv
DS: Koos Moerenhout
91 Marianne Vos NED
92 Lucina Brand NED
93 Shara Gillow AUS
94 Anouska Koster NED
95 Roxane Knetemann NED
96 Anna Van der Breggen NED
Parkhoyrl Valkenburg
DS: Raymond Rol
101 Jip van den Bos NED
102 Janneke Ensing NED
103 Ilona Hoeksma NED
104 Jermaine Post NED
105 Ersa Tromp NED
106 Eva Burmann NED
BTC City Ljubljana
DS: Gorazd Penko
111 Eugenia Bujak POL
112 Polona Batagelj SLO
114 Urša Pintar SLO
115 Anna Plichta POL
116 Mia Radotic CRO
Cylance Pro Cycling
DS: Manel Lacambra
121 Rossella Ratto ITA
122 Rachele Barbieri ITA
123 Sheyla Gutiérrez ESP
125 Valentina Scandolara ITA
126 Alison Tetrick USA
Drops Cycling Team
DS: Bob Varney
131 Alice Barnes GBR
132 Sophie Coleman GBR
133 Rebecca Durrell GBR
134 Jennifer George GBR
135 Laura Massey GBR
136 Hannah Payton GBR
Great Britain
DS: Julian Winn
141 Emma Pooley GBR
142 Emily Kay GBR
143 Grace Garner GBR
144 Manon Lloyd GBR
145 Annasley Park GBR
146 Jessie Walker GBR
Hitec Products
DS: Bart Lismont
151 Kirsten Wild NED
152 Simona Frappporti ITA
153 Tatiana Guderzo ITA
154 Lauren Kitchen AUS
155 Julie Leth DEN
156 Emilie Moberg NOR