Celebratory Rapha women's 100 kit now available to buy
The pro team will showcase the range at the Women's Tour this week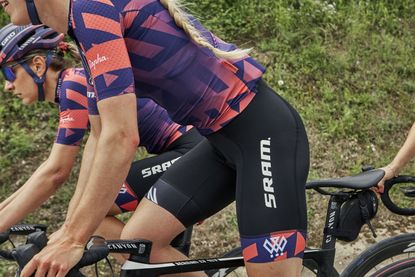 (Image credit: Picasa)
The Rapha Women's 100 kit - which will adorn the shoulders of Canyon SRAM riders at the Women's Tour from tomorrow - is now available to buy with a capsule range including two jerseys, bibs and accessories.
The navy and coral design has been created to celebrate the Rapha Women's 100, an annual event taking place on September 15, during which the brand encourages women all over the world to join together and ride 100 kilometres.
>>> Is women's specific geometry relevant in 2018?
The pro team riders will wear the kit for the five day Women's Tour event visiting locations across the country between Wednesday June 13 and Sunday June 17, and Canyon has produced a matching Ultimate road bike painted up in the team's guest colours.
The intention is that women can stock up on a jersey, matching bibs, cap and socks, ready to train in preperation for the big day out in September.
"We see more and more women on the road riding their bikes, discovering and enjoying cycling. I believe this kind of initiative and using the Rapha Women's 100 as our inspiration will in turn get more women to ride and make our sport even stronger," explained Pauline Ferrand-Prévôt - the French rider who became the first ever to hold World championship titles across Road, Cyclocross and Mountain bike disciplines in 2015 at the age of 23.
Best British Rider at the 2017 Women's Tour and 2016 Road Race National Champion Hannah Barnes added: "It's a bold design that will encourage women to do something bold and challenge themselves and ride the Rapha Women's 100 in September."
The collection consists of a Rapha Souplesse Aero Jersey (£120), which has been wind-tunnel tested to offer free speed on race day, as well as a 'Core 100' jersey (£75), in the same design but at a more affordable price. The bib shorts on offer are the £100 'Core' bib shorts, which feature the same Rapha chamois pad used in the acclaimed Women's Classic bib shorts.
There's also a cap (£25) and socks (£15) for those looking to complete the look.
Thank you for reading 5 articles this month* Join now for unlimited access
Enjoy your first month for just £1 / $1 / €1
*Read 5 free articles per month without a subscription
Join now for unlimited access
Try first month for just £1 / $1 / €1