SBT GRVL's 'The Meaning of Ride' documentary chronicles athletes racing to win, to heal and to save lives
The film follows a pro, a para off-road cyclist and a Type 2 diabetic at the same race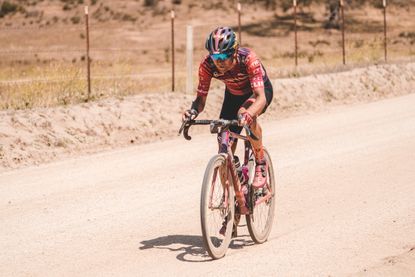 (Image credit: Freddie Jimenez // Canyon Bicycles )
SBT GRVL is one of the world's largest gravel events, with more than 3,000 cyclists descending upon Steamboat Springs, Colorado, each August to tackle routes ranging from 36 to 142 miles with a variety of packed gravel, technical trail sections and up to 10,400 feet of elevation gain depending on the course.
On October 10, SBT GRVL will release its 'The Meaning of Ride' documentary, which follows three athletes with three distinct motivations for undertaking the event in 2022 — to win, to heal and to save lives.
Peter Stetina: Racing to win
Former WorldTour-racer-turned-gravel-pro Pete Stetina is one of the athletes profiled in the film.
Stetina, an early gravel privateer who rides for Canyon Bicycles, arrived in Steamboat Springs ready to go for gold in 2022. His race turned into frustration instead with him ending up in 20th place in the male pro field/ with a time of 6:39:50. Post-race, he expressed some frustrations on social media, stating "I never really had a chance today but the way I was removed from the race really bummed me. I've lost a lot of respect for some guys. More to come…"
Annijke Wade: Racing to heal
Annijke Wade is the second athlete documented in the film and is part of the Ride for Racial Justice (RFRJ) team. Wade is an adaptive mountain biker, para off-road cyclist and athlete.
Wade fell in love with mountain and gravel biking in 2019 and competed in a slew of off-road races until 2021, when she sustained a spinal cord injury in a downhill mountain biking accident. After many months of medical care and rehabilitation, Wade returned to her passion of biking as an adaptive cyclist and advocating for BIPOC and para-athletes in cycling.
J.R. Cohen: Racing to save lives
J.R. Cohen, the third and final rider covered by the documentary, is a SBT GRVL ambassador who found gravel cycling in a poignant way.
"My health wasn't the best about six years ago and only declined the day I lost my brother to suicide," he shares. "About two years after my brother's death, I became ill…only to find out I was a Type 2 Diabetic. I began to change just about everything I was doing to point me in the right direction. I weighed 430 pounds at my heaviest… as soon as I lost 30 pounds through a strict diet, I began to exercise."
Cohen has both volunteered and raced at SBT GRVL and describes it as one of the greatest weekends of his life.
The documentary will be available on Outside Watch beginning October 10, 2023. In the meantime, check out the trailer here.
Thank you for reading 20 articles this month* Join now for unlimited access
Enjoy your first month for just £1 / $1 / €1
*Read 5 free articles per month without a subscription
Join now for unlimited access
Try first month for just £1 / $1 / €1