Schleck, without Contador, fears Basso at Tour de France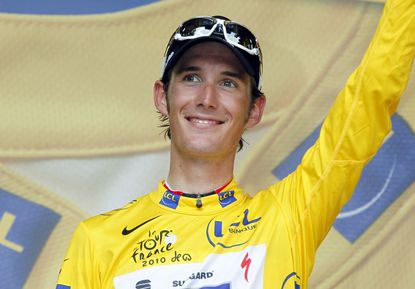 Luxembourger Andy Schleck fears Italian Ivan Basso the most for the Tour de France this July.
"The most difficult opponent will be Basso," Schleck told Italy's La Gazzetta dello Sport newspaper. "He has the head, the legs, the experience. And this time, he's decided only to race the Tour."
Basso of team Liquigas-Cannondale won the Giro d'Italia last year. This year, instead of racing for a third Giro d'Italia title, he decided to focus solely on the Tour de France. He finished second and third at the Tour de France prior to serving a doping suspension in 2007.
Schleck's former top rival, Spaniard Alberto Contador will likely serve a doping suspension that will force him to miss this year's race. Contador won the Tour de France the last two years ahead of Schleck, last year by 39 seconds. Due to a doping positive for Clenbuterol at last year's race, Schleck may be awarded the 2010 title.
"On the road, Contador was stronger than me, the strongest of all. If you can show clearly that he has not respected the rules, I can consider myself the winner. Otherwise, I remain second," added Schleck.
The Spanish Cycling Federation (RFEC) indicated on Wednesday afternoon that Contador will serve a one-year ban and lose his title. However, with the appeals process, a final ruling could take some time.
"Often," said Schleck, "the speed at which the sporting courts move is unbearable."
Ivan Basso
Schleck will lead new team Leopard-Trek at the Tour de France with his brother Fränk Schleck. Ahead of the Tour, his goals are the Ardennes Classics, the one-day races Amstel Gold, Flèche Wallonne and Liège-Bastogne-Liège. To prepare for the races and to face Basso at the Tour, Schleck has been training in the gym this off-season.
"Less bike, more gym," he said. "More power does not mean more weight, but because the weight is identical, it means more watts uphill. Stretching and mobility exercises for the back should help in the time trial. I have room for improvement. The results will be seen only during the season. It's a long process."
The Tour de France will be Schleck's first three-week race of the season. Basso raced both the Giro d'Italia and Tour de France last year. Though he won the Giro, he suffered at the French Grand Tour.
"It's hard. Not just for the proximity. It also depends on the routes and the weather. If the Giro is cold and rainy, you'll pay," added Schleck. "The Giro is typically harder because of the route, the Tour for the pressure and competition. But I will return to the Giro, sooner or later."
Schleck last raced the Giro d'Italia in 2007, when he finished second and won the young riders competition.
Related links
UCI awaits final Spanish decision in Contador doping case
Andy Schleck: Rider Profile
Ivan Basso: Rider Profile
Thank you for reading 5 articles this month* Join now for unlimited access
Enjoy your first month for just £1 / $1 / €1
*Read 5 free articles per month without a subscription
Join now for unlimited access
Try first month for just £1 / $1 / €1