Team Schleck announces four riders, but other details still vague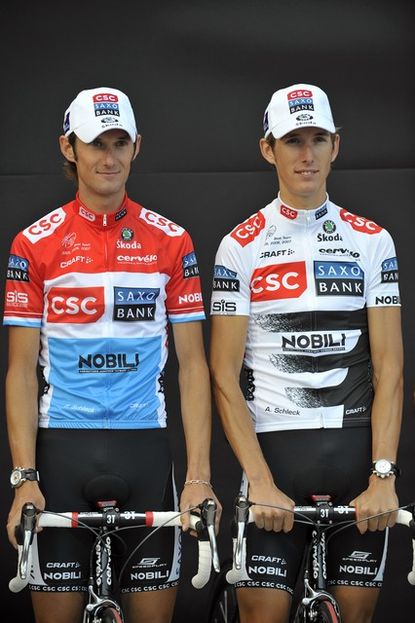 The new Luxembourg-based team of Andy Schleck has revealed very little about itself ahead of its debut in January. Today though, it announced that it signed four riders, including Italian sprinter Daniele Bennati.
"I'm sure he'll be a significant addition to our line-up," said General Manager Brian Nygaard. "I actually don't think we have seen his best yet. I see him flourishing in the right environment and I believe we can provide that for him."
Italian Bennati has won stages in all three Grand Tours, including two at the Tour de France. His last big win, a stage at the Vuelta a España, came in his first year with team Liquigas in 2008.
Team Sky's Davide Viganò joins his fellow Italian along with Italian neo-pro Giacomo Nizzolo and Portuguese Bruno Pires.
The new team, though, has yet to confirm its financial backers, its name and the majority of its riders. Last week, it announced that it signed three of its sports directors - Luca Guercilena, Torsten Schmidt and Dane Lars Michaelsen - to join Team Manager Kim Andersen.
The Schleck brothers, Andy and Fränk, unofficially confirmed they would be on their home team in August when they passed on renewing with Bjarne Riis' Saxo Bank team. Since then, they have made clear they will headline the team, but have refrained from discussing who will be on the team.
Nygaard is planning announce some of the 25 riders already signed throughout this week. Besides the Schlecks and today's four riders, the other riders are reportedly Brice Feillu, Jakob Fuglsang, Linus Gerdemann, Dominic Klemme, Anders Lund, Maxime Monfort, Stuart O'Grady, Joost Posthuma, Tom Stamsnijder, Jens Voigt, Robert Wagner, Fabian Wegmann, Wouter Weylandt and Martin Mortensen.
"I am sure that our sponsor will be interested to strike," Nygaard told Denmark's Politiken newspaper, "if suddenly there's a chance of an exceptional deal."
Fabian Cancellara may be the team's surprise deal. The Swiss time trial champion announced he quit Saxo Bank one year early, but has yet to announce his future team. Nygaard's team reportedly paid a fee of €3m so that Cancellara could annul his previously existing contract.
The amount of money spent to secure 25 rides and help Cancellara annul his contract means the team's sponsors exist. The team is supposed to be financed by a group of five primary sponsors and already confirmed Mercedes-Benz Luxembourg on September 29.
None of the sponsors will have its name as the team's name, like Team Sky for instance, but the team will carry a name that recognises its country of origin. Andy Schleck told L'Equipe yesterday that the team will be called "Pro Team Luxembourg" but, as with most of the sponsors and riders, it is not yet official.
Thank you for reading 20 articles this month* Join now for unlimited access
Enjoy your first month for just £1 / $1 / €1
*Read 5 free articles per month without a subscription
Join now for unlimited access
Try first month for just £1 / $1 / €1