'The hardest ride': Matt Downie beats Mark Beaumont's NC500 record by an hour
26-year-old completes 516 mile course in 27 hours 30 minutes dead to set new best time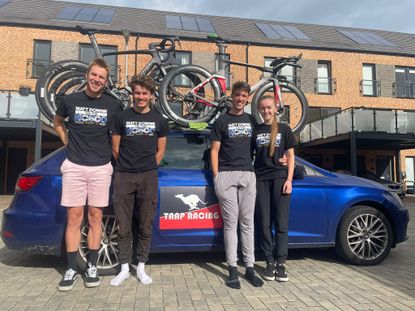 (Image credit: Matt Downie)
Matt Downie has set a new record time for the North Coast 500, the 516-mile route that traces the north coast of Scotland, which is now below 28 hours for the first time.
The record means that Mark Beaumont's previous record time has been beaten by an hour. Downie set off at 09:00 on Wednesday morning from Inverness Castle, and completed the NC500 loop on Thursday afternoon at 12:30, to set a new record of 27 hours, 30 minutes exactly, subject to verification from the World Ultra Cycling Association (WUCA).
Speaking to Cycling Weekly the day after completing his epic challenge, the 26-year-old said that it was "by far the hardest ride" he had ever done.
"After the ride I was so glad it was done, there was a massive sense of relief," he said. "I couldn't believe I had done it, the wind conditions and everything, it was so difficult. I appreciate and respect Mark and Robbie Mitchell's efforts, I gained a lot of respect for both of them. Now it has settled in, it's quite an amazing thing to have the world record.
"I went into it thinking I would break it. But there was no pressure on me, it would still have been amazing.
"It was by far the hardest ride I've ever done. I'm not expecting to be back on the bike for another week or so."
The route starts at Inverness and runs in a clockwise direction through Muir of Ord, Applecross, Gairloch, Ullapool, Scourie, Durness, Thurso, Castle of Mey, John o' Groats, Wick, Dunrobin Castle, Dingwall before heading back to Muir of Ord and then Inverness.
Despite the scorching pace set by Downie, it was not all smooth sailing through the 27 hours on two wheels.
"The hardest bit was the last 200km I think, when the sun started rising," he explained. "I was going up a 2% incline doing 270 watts, into a block headwind at 20km/h. I wasn't going anywhere. My knee flared up too, and if I stopped pedalling it was absolute agony. That was the worst part. With 90km to go, I was on my TT bike in a howling headwind, and I thought about giving up, but I kept pushing through it.
"We had a plan to change to my road bike at 117km, at the foot of the Bealach na Bà. It was very windy, so while we planned to get back on my TT bike after 300km, as it was supposed to ease off on the climbing. Maybe 220km in I was back on my TT bike. There wasn't really much of a strategy, I tried limiting stops. We swapped over bikes a lot more often than planned, just because of the wind. We played it by ear really."
Having broken the record, Downie is convinced he could go even quicker on another day.
"I think I could go faster," he said. "We did it in a storm, so the winds were horrendous. I could go faster, I would like to give it another go, next year, we'll see. I think we've gained a lot of experience from this, as it was the first time me or my support crew have ever done anything like this. There are things to improve on for next time."
However: "By the end of it, I was completely gone. It was hard."
Downie rode on two bikes, an S-Works Venge Dura-Ace Di2, with a set of Enve 7.8 wheels, a 55-40 on the front, and 11-28 on the back. His TT bike was an Orbea Ordu Ultegra Di2 with an Enve disc wheel on the back, and Speedco bars. He was supported by Monument and Taap Racing in his effort.
Thank you for reading 20 articles this month* Join now for unlimited access
Enjoy your first month for just £1 / $1 / €1
*Read 5 free articles per month without a subscription
Join now for unlimited access
Try first month for just £1 / $1 / €1