Tributes to Davide Rebellin pour in from the global cycling community
Italian recently retired professional cyclist was killed yesterday morning after being struck by a truck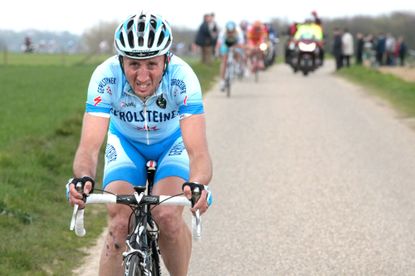 (Image credit: Getty Images)
Tributes have poured in from all corners of the cycling community for Italian former professional cyclist Davide Rebellin, a former winner of prestigious races including Liège–Bastogne–Liège who was tragically killed yesterday morning.
Rebellin, who only recently retired from the sport he loved, was killed after being struck by a truck while on a morning training ride in Italy.
He was just 51-years-old.
Fellow former professional, Daniele Bennati who now coaches the Italian national team posted a message on Twitter which simply read: "Tell me it isn't true."
He followed this up with a longer message which referenced the death of another great rider in similar circumstances, Michele Scarponi who was killed in 2017 aged 37.
"It's too difficult to accept all this, first Michele, now you Davide. But in the midst of many, too many other tragedies that with excessive indifference are passed off as normal. Hello Sports and Humility Champion. RIP," Bennati said.
Meanwhile cycling commentator and former professional, Matt Stephens shared a tribute that recalled his memories of racing against Rebellin in Italy. He said: "Just returned home from a ride to hear of the passing of Davide Rebellin. So terribly sad. Fond memories of first racing against him way back in the baby Giro 1991. One thing is for sure, cycling defined his life. He lived it. My deepest sympathies to his family and friends."
Rebellin had only retired last weekend, and competed in a criterium in Monaco which was won by Philippe Gilbert.
Former professional Nicholas Roche was at the event in Monaco and shared a message on Twitter which read: "Tragic accident today! Only a few days ago we were celebrating his retirement here in Monaco. RIP Davide."
Philippe Gilbert, the winner of the Monaco criterium also shared his own touching tribute on social media which expressed shock at them having only just raced together.
"A few days ago we were doing our last pro race in Monaco and today you left to join the stars. I think very strongly of Françoise and your family. I am very sad we will miss you amico. RIP Davide Rebellin," Gilbert wrote.

Various WorldTour professional teams shared messages on Twitter expressing shock and sadness at Rebellin's untimely and tragic death.
Astana Qazaqstan posted a message, which said: "We are shocked and deeply saddened by the tragic news of Davide Rebellin death... it is impossible to believe...We express our deepest condolences to the family of Davide."
Jumbo-Visma shared a similar message: "We are deeply shocked by the sad news that Davide Rebellin has passed away. Our thoughts are with the bereaved families and the (Italian) cycling peloton."
Recently retired Alejandro Valverde, who raced against the Italian on a stack of occasions, offered his condolences to Rebellin's family and friends.
Valverde said: "My deepest condolences to the family and friends of Davide Rebellin, a professional colleague and rival for so many years. D.E.P."
A host of other former and current riders, as well as journalists, race organisers and managers shared their own personal tributes to the Italian great.
A selection of them are below.
Thank you for reading 10 articles this month* Join now for unlimited access
Enjoy your first month for just £1 / $1 / €1
*Read 5 free articles per month without a subscription
Join now for unlimited access
Try first month for just £1 / $1 / €1
Tom is a News and Features Writer at Cycling Weekly, and previously worked in communications at Oxford Brookes University. Alongside his day job, prior to starting with the team, he wrote a variety of different pieces as a contributor to a cycling website, Casquettes and Bidons, which included interviews with up and coming British riders.