Tweets of the week: Lotte Kopecky gets merry, Mark Cavendish's ideal Tour de France route, and a special pizza cutter
It's time for our weekly round-up of the best social media posts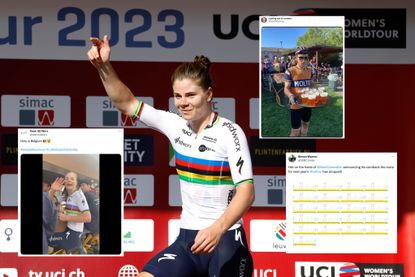 (Image credit: Getty Images/X)
After a standout year on the bike, Lotte Kopecky is finally letting her hair down.
Last weekend, the recently crowned road world champion hosted a 'fan day' in Ghent, Belgium. There was music, a bouncy castle and a cycling agility course, all of which Kopecky herself enjoyed.
So jubilant were the festivities, in fact, that at one point, the SD Worx rider broke away and joined a float of cycling beer-drinkers.
The move looked instinctive. She ran through the metal safety barriers, and hopped into a seat on the moving carriage. Once there, she was served a dark liquid in a plastic cup; the contents have not been confirmed, but Cycling Weekly's keen eye thinks it's either coca cola or a bold red wine.
If you think this revelling is out of character for Kopecky, think again. During this summer's Tour de France Femmes avec Zwift, the Belgian launched her own clothing line called Loko - a clever double entendre which is a mash-up of her first and last names and, crucially, a nod to the Spanish word for crazy.
"It says it all. 'A bit crazy'. We all have to be a bit like that," Kopecky herself writes on the website.
That attitude came to the fore after the final stage of the Tour. Lurking in the press conference room, Kopecky seized the microphone and posed a question to her teammate Marlen Reusser, the winner of the closing time trial. "Who is your favourite teammate?" she asked. A wave of laughing then rippled around the room.
See if you can deduce her tipple of choice from the Loko fan day in the video below.
Elsewhere on social media this week, plans are drafted for Mark Cavendish's special farewell Tour de France, a Jumbo-Visma rider gets his maths wrong, and Demi Vollering clocks up the kilometres with her off-season companion.
1. Long live Loko
Only in Belgium 🇧🇪🤩#wesparksuccess #LotteKopeckyFanday pic.twitter.com/PXpPu5My3ISeptember 30, 2023
See more
2. Ineos Grenadiers rider Michał Kwiatkowski has also been on a session
3. He can win Grand Tours, he can win Monuments, but can Tadej Pogačar ride a uni-cycle? Yes, yes he can
4. A man and his feline friend stole the show at the Urban Hill Climb. "She seems to enjoy cycling," Travis Nelson told Cycling Weekly of his cat, Sigrid
Do not do the @UrbanHillClimb on a fixie with a cat riding your shoulder, I cannot stress this enough. 😺🤦‍♂️@London_Cycling @JezCox#gatos #michis #kissa #pishi #pusa #kot #kit #chat #kedi #katze #gatto #sigrid #london #bike #cyclingphotos #bikelife #fixedgear #trackbikes1m pic.twitter.com/i3TsdsnlAEOctober 1, 2023
See more
5. Demi Vollering's got a special training partner, too. Meet the Tour de France Femmes champion's dog Flo
6. Flo's not the only dog in SD Worx's "paw support squad"
Happy world animal day 🤩 meet (some of the) paw support squad behind Team SD Worx 🐶🐾#wesparksuccess pic.twitter.com/5kbz0RlzAqOctober 4, 2023
See more
7. More dogs, you say?
Pavel Sivakov's dog giving some support after the finish pic.twitter.com/ZcKDQLk3KSSeptember 30, 2023
See more
8. Never miss a chance to dunk on your rival football team. Even if that means doing so on your work's X account
Today in Coppa Bernocchi, @AndreaBagioli racked up our team's 23rd top three finish since Chelsea's last Premier League goal. pic.twitter.com/bsVZjtZxZSOctober 2, 2023
See more
9. Peter Sagan retired last week, calling time on an illustrious 15-year career. Note retired, not died
10. Mark Cavendish, on the other hand, pulled the old switcheroo on his planned retirement
11. If Cav is to break the all-time Tour de France stage wins record, he'll need a few decent chances. How about 21?
Hot on the heels of @MarkCavendish announcing his comback the route for next year's @LeTour has dropped! pic.twitter.com/0i4oZI0MWjOctober 4, 2023
See more
12. Jumbo-Visma's Per Strand Hagenes didn't celebrate his victory in the Sparkassen Münsterland Giro. Why? Well, he thought there was another lap
🇩🇪 #MuensterlandGiro"I thought it was another lap!"No, Per! You took the win. 😃💪🏻 pic.twitter.com/Z5UzsgELEwOctober 3, 2023
See more
13. Here's what Shimano is going to do with all those recalled cranks
14. I crashed and broke my bike frame last weekend. Wish Trek would send me a new bike, too *cough cough*
Thank you for reading 20 articles this month* Join now for unlimited access
Enjoy your first month for just £1 / $1 / €1
*Read 5 free articles per month without a subscription
Join now for unlimited access
Try first month for just £1 / $1 / €1