Tweets of the week: The news won't stop; Visma-Soudal-Amazon; and what will Roglič do?
In a week where seemingly everything and nothing has happened, everyone has been hard at work on social media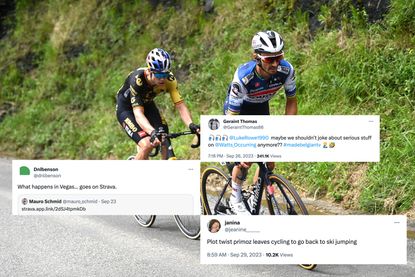 (Image credit: Getty Images)
What a week. More often than not in the back end of the season, not a lot happens. The Vuelta a España has been over for ages now, there isn't even the World Championships to divert our attention, and Il Lombardia doesn't really have enough pull to distract everyone.
Except this season, where things have been different. The news has not stopped all week, with seemingly each story bigger than the last. How long can this go on?
First, there was Mauro Schmid's flight to Las Vegas and the ensuing war of words between him and Patrick Lefevere (there's a lot of Patrick Lefevere content this week, just to warn you). Then, on Sunday came the bombshell that Jumbo-Visma and Soudal Quick-Step were contemplating a merger, with Lefevere at the heart of that again. On Monday, we had Chris Froome going viral as some kind of bike influencer, not as a rider, before the Mark Cavendish train got rolling again, with rumours of one more year surfacing. Then there were big questions over where Primož Roglič will be riding next year - Ineos Grenadiers? Movistar? The new Visma-Soudal super team?
Finally, we had the news that Amazon were going to invest in the purported merged squads, and we thought that was all the big news of the week done. Not quite. Somehow, in all the excitement, we missed that the UCI and the Chinese Cycling Association had signed a bilateral agreement in Hangzhou that includes opening a World Cycling Centre Continental Development Satellite. Woah. There is barely any time to breathe.
It has been too much for some people. This week, we look at the fallout from making a joke on a podcast, people discuss where Roglič is going to go based on top-level sleuthing, and Thomas De Gendt pitches himself as the solution to all of Ineos Grenadiers' GC-based woes.
1. Me too, Thomas, me too
2. For some people, it's all a bit too much. You could simply log off Twitter/X I suppose - it's what I try and do increasingly these days, when I'm not having to compile a social media roundup, of course
3. In amongst everything else going on this week, Jumbo-Visma boss Richard Plugge met up with Apple CEO Tim Cook? What the hell is going on
4. In case you missed it, Chris Froome is more of an influencer than a bike rider these days about it. I wrote a whole piece about it!
5. Before all the madness of this week kicked off, we had the excitement of Mauro Schmid going to Las Vegas. Rather than getting hooked to one-armed bandits, the Swiss rider instead when for a nice cycle
6. It has all been too much for ex-pro Rory Sutherland too
7. Do you think Patrick Lefevere has every watched It's Always Sunny In Philadelphia? My gut and my head says no, but my heart wants the taciturn Belgian to chuckle away at it
8. One of the biggest sideshows of the week was Geraint Thomas saying that Remco hates Jumbo on his podcast. It was apparently a joke, but it doesn't seem too out of the question. Cue a media storm and Ineos Grenadiers' press officers decrying people covering the story, though
9. What power Thomas must have felt after his remarks blew up
10. Meanwhile, even the most sane people in cycling were being pushed to the limits by this week of speculation and rumour
11. Primož Roglič, just like Kirk van Houten? Maybe. Maybe the Slovenian sleeps in a car bed.
12. Ben Stiller likes cycling, sure. Ben Stiller reads Cycling Weekly? Mad. More on that here
13. The Roglič transfer that would solve everything!
14. In a week which saw Ineos Grenadiers linked to Roglič and also a story about their bid to sign Pogačar emerged, another GC challenger stepped forward: Thomas De Gendt!
15. And finally: remind me what a Peloton is for again?
Thank you for reading 20 articles this month* Join now for unlimited access
Enjoy your first month for just £1 / $1 / €1
*Read 5 free articles per month without a subscription
Join now for unlimited access
Try first month for just £1 / $1 / €1