Tweets of the week: Wout van Aert gets on his dancing shoes and Tom Pidcock gets a new puppy
Bringing you your regular cycling social media roundup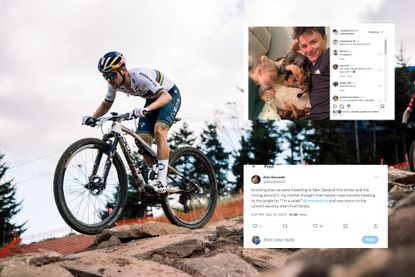 (Image credit: Future)
What do most people like to do on their holidays? Lie on the beach and soak up the sun, eat nice food, hit the town and go dancing, or maybe finish that book that's been sitting untouched for several weeks amongst the daily grind.
If your name is Wout van Aert then you might take in the lot.
The Belgian superstar has been in South America these past few days for El Giro de Rigo, Rigoberto Urán's Gran Fondo event in Colombia. Whilst he's been down there, he's also quite clearly been looking to throw his hat in the ring to take over the James Bond 007 mantle from Daniel Craig as shots have emerged of him in a bow tie and tuxedo at Urán's event.
We reckon that Van Aert could certainly give James Norton and co a run for their money whenever those much talked about auditions take place for the role. Never mind the Aston Martin, who needs that or the other flash cars when you can escape from various villains on a Cervélo.
Meanwhile while Wout has been living it up, Tom Pidcock has been settling down with his latest addition to the family, another rather lovely looking puppy called Acorn.
Pidcock's other dog, Chestnut, has made many guest appearances at cycle races around Europe this season and will no doubt be joined by the adorable Acorn in due course.
Rider's dogs were everywhere at last year's Tour de France, so much so that we almost had an unofficial canine popularity contest going on. Never mind the press room buffets, a Tour de France Crufts equivalent will be enough to get me on a plane or car to France next July.
1. Annemiek van Vleuten and Mischa Bredewold take in the footy
2. Tadej Pogačar and Primoz Roglič hit the town. I love the motion captured in this photo, gives energy
3. Sometimes you just need a lie down!
4. Here, Luke Rowe and Geraint Thomas have fun at the fair - are they not a bit old for this?
When Luke & G hit the funfair 🤣🤦‍♂️Get this mad bike to the end wall and win £50.Drinks on Luke 🍻👏 (and not on G 💀) pic.twitter.com/2KWwBFjYdbNovember 11, 2023
See more
5. A new puppy has arrived for Tom Pidcock. Maybe that's why he hasn't raced this CX season yet...
6. Wout van Aert looks not at all self-conscious while dancing in Colombia. Show us some more moves!
Segura a Colômbia, Wout! 🎥 @elgiroderigo pic.twitter.com/hnWxelBKtRNovember 11, 2023
See more
7. Even we might have tuned in to "I'm a celebrity" if Alex Dowsett had been on there
Knowing that we were travelling to New Zealand this winter and the timing around it, my mother thought that maybe I was secretly heading to the jungle for "I'm a celeb" @imacelebrity and was sworn to the utmost secrecy, even from family.November 15, 2023
See more
8. Sometimes autumnal riding can be a battle
9. Whose got better moves.... Remco Evenepoel or Wout??
10. We're not sure this new skinsuit will take on before the cross worlds next year
11. And finally... thirsty much?!
Thank you for reading 20 articles this month* Join now for unlimited access
Enjoy your first month for just £1 / $1 / €1
*Read 5 free articles per month without a subscription
Join now for unlimited access
Try first month for just £1 / $1 / €1