Two Bicyclists Tragically Killed After Being Struck by Lumber from a Passing Freight Truck
Victims were avid cyclists from Oregon visiting the Napa region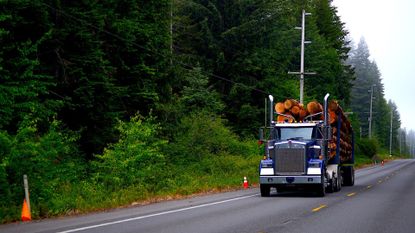 (Image credit: Getty Images)
Two bicyclists were tragically killed on Tuesday morning after being struck by falling lumber in Napa County, California.
Christian Deaton, 52, and his wife Michelle Deaton, 48, both hailing from Portland, Oregon, were riding along the Silverado Trail –a paved two-lane road in the heart of wine country– when a three-axle flatbed truck passed the couple. Its load of lumber shifted and collided with the cyclists.
The truck driver remained at the scene and California Highway Patrol (CHP) responded promptly. CHP reports that Christian Deaton was pronounced dead at the scene while Michelle Deaton succumbed to her injuries after being transported to Queen of the Valley Medical Center.
At this time, it's unknown why the truck's contents shifted in transport and the incident remains an ongoing investigation.
Central Valley Builders, the company that owns the truck involved in the accident, released a statement expressing their condolences to the victims' families and their commitment to find out what happened: "We are devastated by this news, and our deepest sympathies are with the victims' families and loved ones. Central Valley is continuing to gather the facts to determine exactly what happened, including working closely with local law enforcement as they investigate this incident."
Christian and Michelle Deaton both worked for Nike and were known for their passion for cycling and travel. They did not have any children, a local news channel reports.
The Napa Country Bicycle Coalition took to social media to lament the loss of the Deatons while highlighting the need for safer road infrastructure.
"This enormous, preventable loss is sitting heavy in our hearts and minds, as we know it is for those who ride locally and work toward safer streets," the statement reads.
"Living here, riding here, and visiting here should be safe for all road users, and we are incredibly saddened that the Deatons were not kept safe."
Thank you for reading 20 articles this month* Join now for unlimited access
Enjoy your first month for just £1 / $1 / €1
*Read 5 free articles per month without a subscription
Join now for unlimited access
Try first month for just £1 / $1 / €1