UCI reduces fees for approved equipment scheme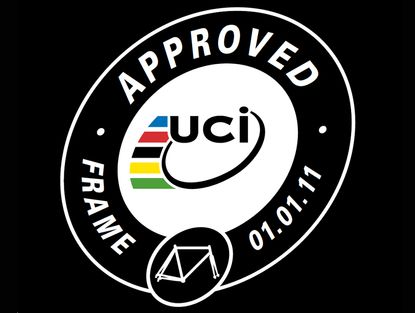 Get The Leadout Newsletter
The latest race content, interviews, features, reviews and expert buying guides, direct to your inbox!
Thank you for signing up to The Pick. You will receive a verification email shortly.
There was a problem. Please refresh the page and try again.
Following the general furore over the new approval protocol rushed in earlier this month, cycle racing's international governing body, the Union Cycliste Internationale (UCI), has reduced its fees. It claims it has been able to do so due to the economy of scale effect of a "high number of approval requests... as well as the simplification of certain steps in the procedures".
According to a communiqué issued by the UCI after launching an emergency review of the protocol last week, the most a manufacturer will pay for getting a bike or frame approved for racing is 5,000 Swiss Francs (apx £3,330) per model for up to eight different sizes. This compares to the previous figure of approximately £7,800 + VAT.
This price for the comprehensive procedure is now only applicable to mould-manufactured time trial and track bikes - the two types of machine that have tended to flout technical regulations most frequently in the past.
New models of mould-manufactured road and cross bikes are now subject to a 3,000 Swiss Francs (apx £2,000) procedure if they are to be approved for racing.
Frames and bikes of a tubular design need only undergo the simplified procedure. This will cost 500 Swiss Francs (apx £333) compared to the apx £500+ VAT previously quoted.
The cost of a modification to the size of an approved frame or the approval of an additional size over the eight included in the initial approval cost will be 500, 250 or 50 Swiss Francs depending upon the procedure a model is subject to.
Other modifications to the UCI's approval protocol are slightly more relaxed rules on how and where a new piece of equipment is labelled to say it is approved.
Removed from the label will the date of approval because commercially "it could disadvantage less recent models".
Other points in the document reiterate a maximum time limit for UCI approval of a new model of equipment to three months. The UCI also reiterate the seriousness with which they are protecting intellectual property.
As reported in this week's issue of Cycling Weekly magazine, the UCI have rushed through these modifications to the protocol so that they can be applicable in time for the 2012 Olympics - as had been promised by UCI president Pat McQuaid at the 2010 World Track Championships.
Under an agreement between international governing bodies and the International Olympic Committee, new rules governing a sport need to have been in force for 18 months prior to the games.
With the modification to the procedure being published yesterday, exactly a year and a half out from the London opening ceremony, it was just in the nick of time.
Despite there still being a number of grey areas in the approval procedure, there's no time for any more changes now.
Related links
UCI suspends equipment approval scheme
UCI 'approved' stickers to adorn racing bikes
UCI introduces approved equipment scheme
Thank you for reading 20 articles this month* Join now for unlimited access
Enjoy your first month for just £1 / $1 / €1
*Read 5 free articles per month without a subscription
Join now for unlimited access
Try first month for just £1 / $1 / €1
Get The Leadout Newsletter
The latest race content, interviews, features, reviews and expert buying guides, direct to your inbox!