White keeps Australian post despite referral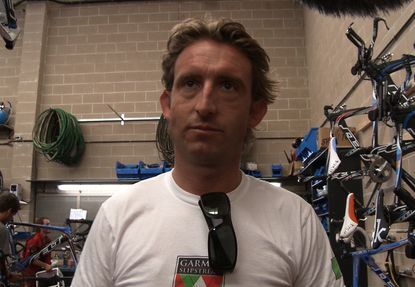 Australian Matt White will keep his job as head coach of his national team, the federation confirmed today. The decision came 10 days after US team Garmin-Cervélo fired White for a doctor referral.
"The board is satisfied that Mr White's breach of Garmin-Cervélo policy was an error of judgement that he sincerely regrets, but that it was nothing more than that," said Cycling Australia's CEO, Graham Fredericks.
"Matt has learned a lesson, the hard way, from this."
Garmin Team Manager, Jonathan Vaughters fired White after three years of service on January 23. White had violated team rules when he sent Australian cyclist Trent Lowe for a medical test with Dr Luis Garcia del Moral in Valencia in 2009. The team's internal policy is that its medical staff first approves all referrals.
Del Moral was the head doctor for team US Postal from 1999 to 2003. His name was linked with doping when Floyd Landis claimed last year that US Postal had an internal doping system. Seven-time Tour de France winner Lance Armstrong is under investigation in the US now partly due to Landis's claims.
I am "100 per cent sure that the reason Whitey sent Trent to that doctor was not precarious in any shape or form," Vaughters said of his decision to fire White. "At this point in time, Luis Garcia del Moral worked at a Government-funded sports clinic in Valencia. It's the only clinic of its type that can do a VO2 Max test, which is what Trent was asking for. Trent lives in Valencia when he lives in Europe, so, Whitey simply referred him there."
Lowe ended his contract with the team at the end of last year. Vaughters only noticed the referral when Lowe informed him of it last month.
White, 36, had already accepted a part-time job as national sports director prior to losing his job with Garmin. His new job, however, appeared in doubt until today's release by Cycling Australia.
"We are confident he is fully aware of and committed to the policies that must be adhered to when working with the national programme," added Fredericks. "We look forward to working with him and believe he is a valuable addition to our team."
White may find a new full time job with Shane Bannan's new team, Green Edge. Bannan intends to race his team in the first division next year and will need to hire sports directors to work alongside Neil Stephens. Prior to losing his job, White had already been linked with Green Edge.
His first goal as Australian couch will be to assemble a team for the World Championships in Copenhagen in September.
Related links
Lowe 'threatened to expose information' in Slipstream case
White responds to Garmin sacking
Jonathan Vaughters on why he had to sack Matt White
Matt White sacked from Garmin-Cervelo team
Thank you for reading 20 articles this month* Join now for unlimited access
Enjoy your first month for just £1 / $1 / €1
*Read 5 free articles per month without a subscription
Join now for unlimited access
Try first month for just £1 / $1 / €1