5 Kickstarter products to help your commute
We take a look at some of the most backed products from the Kickstarter program and beyond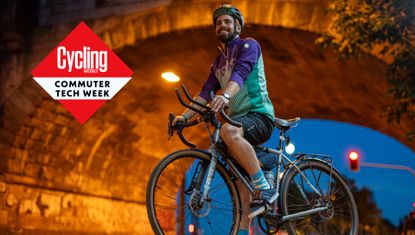 (Image credit: Clip Clap)
The ever changing world of cycling is one that welcomes innovation, whether it's big brands or small start-ups - and more often than not, the niche problems are tackled by the latter.
With our focus set on commuting this week, we thought we would take a look at five of the most innovative, popular, and even strange Kickstarter products that fall into the commuting sphere.
Clip Clap - clip in casually
Clipless pedals do wonders for pedaling efficiency. Having a shoe that clips into the pedal allows you to pull up and push down on the cranks, allowing more power to go through the pedals - but not everyone wants to take a whole new set of shoes to the office.
That is where Clip Clap comes in. The German start-up has designed a cleat strap system that will fit onto any shoe securely.
The Clip Clap pedal adaptor system is made up of a 3D printed base that attaches to the bottom of the foot via a strap system, operated with hook lock fastening. To ensure the cleat doesn't move around on the underside of the foot, Clip Clap has also engineered pedal pins that lock the system in place, it claims, under any shoe!
They are now for sale, coming in at €79.99 which isn't cheap - though for a similar cost to a new shoe, you do get the convenience of the small form factor, and they are made in Germany too.
SMART Puncture proof tyres
Puncture proof - that is music to almost any cyclist's ears. There is nothing worse than arriving to work with oil-covered hands as a result of a struggle with your rear wheel - but how exactly does SMART aim to change the game?
Using technology originally developed for NASA, the SMART Tire Company has designed a bike tyre made out of shape memory alloy - which it calls METL™ tire.
The shape memory alloy is said to provide a similar feel to a pneumatic tyre, whilst remaining puncture-proof, unlike some of the solid rubber alternatives on the market which can feel unnatural to ride.
This all sounds great - but an alloy mesh, you would think, doesn't create a whole lot of grip when its only 30mm wide. SMART say the final product, which is available for pre-order, will be integrated with a special poly-rubber material, which gives the tyres grip and is also long lasting.
VIRGO helmet
Virgo makes a pretty bold claim about its full face helmet - 'the safest cycling helmet for e-bikes'. While it may seem a slightly odd niche, it is true that e-bike impacts tend to differ from normal bikes due to the center of mass of the bike.
The high-tech lid complies with both EN1078 standards as well as more stringent NTA-8776 regulation - specific to speeds of up to 45 km/h
The protective chin bar comes into its own in scooter or skateboard accidents where people tend to fall heavier on their faces due to them starting in an upright position - something we explored in our interview with Dr. Ghajari, on helmet safety.
The helmet weighs in at 600 grams, which isn't light - though it does come packed with an integrated rechargeable rear light, and can now be purchased with MIPS too which is said to improve safety. It doesn't come cheap though - the VIRGO retailing at £260.
Beeline Velo 2
In a city commute, there are often multiple different routes you can take to get to your destination - and its nice to change it up. Equally, there is nothing more annoying than trying to get to a new location and having to pull out your phone to check for directions - a problem that Beeline seeks to change.
Beeline's simplistic approach to directions allows you to see junctions in front of you alongside your next turn - the circular unit is created to deliver what Beeline calls "fuss-free navigation".
The Beeline device is around the size of a watch face and mounts easily with a twist lock fitting to your handlebars or stem.
Perhaps the Elephant in the room is that the Beeline provides the functionality that we are now used to seeing from some of the big-name smartwatches. But for those who are looking for a small form-factor navigation device, we think the Beeline Velo 2 is pretty cool.
FLECTR 360
Reflectors - it is a requirement for reflectors, front and rear, to be sold with any new bike - but it's often one of the first things to be removed.
They may be far from sleek, but they do make a real difference to a rider's visibility - something Flectr has addressed.
The Flectr 360 kit is designed for application on deeper section wheels, and wrap around the rim. This means they are visible from almost any angle.
It's not the most ground-breaking of products, but a neat one nonetheless, and at £15 for a set, a reletively low-cost option to make your commute that much safer in lower light conditions.
Thank you for reading 20 articles this month* Join now for unlimited access
Enjoy your first month for just £1 / $1 / €1
*Read 5 free articles per month without a subscription
Join now for unlimited access
Try first month for just £1 / $1 / €1