Driven Technologies seeks to shift into the e-bike market
The American brand is displaying its all-new ebike drivetrain at this years Euro Bike festival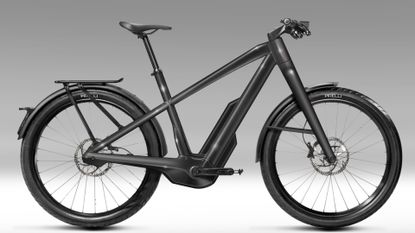 (Image credit: Driven Technologies)
Driven Technologies is showcasing a brand new e-bike drivetrain at the 2023 Euro Bike Festival in the shape of the Orbit Drive. The new chainless system features a set of planetary gears and built-in regenerative braking all in a 'bolt-on' package that they hope will make for easy adoption, once fully released.
The company from Colorado may be remembered best for the rather alien CeramicSpeed Driven drivetrain concept back in 2018. However, as of 2021, Driven Technologies was spun off from its parent Ceramic Speed, and has been trading as a separate company - with a particular focus on the rapidly growing e-bike sector.
The Ceramic Speed project never quite made it off the ground back in 2018 - a key reason for this was that the system required too many unique frameset modifications for major cycling brands to adopt it. With the new 'Orbit Drive', though, Driven Technologies has shifted its focus to a market where durability and low maintenance rank higher in importance, and bespoke frameset designs are more likely to be accommodated.
You may be wondering what exactly is the Orbit Drive system and how does it work? well, the drivetrain is comprised of a variable speed 'bevel differential' configuration of planetary gears. Pictured above, Driven Technologies describes its new Orbit Drive as a 'rotating ball-like mechanism. The bottom bracket-mounted gearbox, Driven Technologies says allows for a "seamless mesh of two inputs (rider + electric motor) in delivery of power to the rear wheel".
The company also claims that the drive system and electronics have all been engineered to fit within common Q-factors - so it should fit easily between the cranks of most standard e-bike frames. Driven Technologies has also designed the system to mate up to existing common bolt patterns, in the hope that manufacturers should be able to easily plug and play the new drivetrain onto frames.
Perhaps the biggest benefit of a drivetrain system, over more traditional chains and cassettes, is the lack of maintenance. The Orbit Drive system is totally enclosed, and Driven Technologies has therefore said maintenance intervals can be set to just once every 10,000 miles / 16,000Km. For regular consumers, this will be a relief but even more so for hire bike fleets, where maintenance is of particular concern.
The drivetrain can also assist up to 90Nm of torque, which is 5Nm more than Bosch's Performance Line CX motor system - so it should be powerful enough to keep up with the best e-bikes on the market. The system will feature manual and automatic gear modes which should make the drivetrain intuitive - although we have not yet seen how a shifter would integrate to the system for manual transmission.
The system weight is a claimed 4.6kg, which is said to include all electronics, gearbox, and power delivery to the rear wheel. Although there is no official price as the drivetrain is still pre-production, Driven Technologies has said the pricing will be "competitive" with similar options with "long maintenance intervals (on par with hybrid autos) giving OEMs and fleet-operators the confidence of knowing their bikes are up and running."
The Driven Orbit Drive will also be available in three different configurations for those frames which don't have support for a driveshaft. Alongside the totally enclosed system, Driven Technologies will also offer a chain-driven system, as well as a carbon belt drive system - both of these will likely be easier to integrate and seem like a sensible option for the business.
To date, Driven Technologies has not brought a product to market. But after rounds of crowdfunding for continued development of the Orbit Drive, this seems to be the closest product to launch yet. We will be sure to update the story when we have any definitive information regarding release dates, pricing, and any bikes that may feature the new Orbit Drive drivetrain.
Thank you for reading 20 articles this month* Join now for unlimited access
Enjoy your first month for just £1 / $1 / €1
*Read 5 free articles per month without a subscription
Join now for unlimited access
Try first month for just £1 / $1 / €1