All new Vitus Venon EVO designed to take on road and gravel
Offered in road and gravel set-ups the Venon EVO is designed for those who want a road bike 'that can do it all'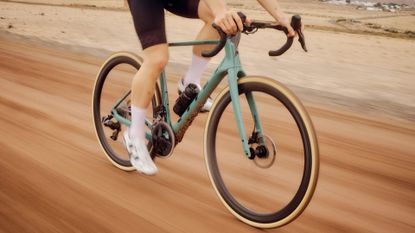 (Image credit: Vitus)
Vitus has released the Venon EVO, an all-road offering "built to blur the line between gravel and road". It's available in a range of road (RS) and gravel (GR) builds that utilise the same carbon frameset and take advantage of its 45mm tire clearance.
The previous Venon, a traditional endurance road bike, was discontinued in 2019. But the new EVO isn't designed as a replacement. Rather Vitus has created an entirely new platform that it says "lands somewhere in the middle '' between a "full-bore road bike" and an "adventure gravel bike". All-road? Gravel racer? 'Groad' bike? You get the gist.
Vitus Venon Frameset
Vitus prefers to describe it as a 'chameleon' and it's the choice of components that define its particular camouflage, rather than the frameset. So how do you create a frame that's versatile enough to handle both disciplines - road and gravel - without compromise?
Once a trend, many of the best road bikes now have wider tire clearances. In large part it happened due to the confluence of disc brakes and tubeless technology, with supporting data that wide tires can be just as fast while delivering greater comfort, the icing on the cake. Vitus has taken this accepted wisdom and run with it.
By blending the generous tire clearance with aerodynamic enhancements borrowed from its ZX-1 EVO race bike, such as integrated cables and drag-reducing tube shapes, it follows a similar pattern to many contemporary gravel race bikes, such as the Factor Ostro Gravel. And it doesn't require any great leap of faith to imagine bikes such as these working efficiently on the road with a few component tweaks.
Rather than imagine the possibilities a frameset like this might deliver, Vitus has chosen to make it a reality. Alongside the ZX-1 EVO, it's taken inspiration from its Vitesse EVO all-rounder, namely in the dropped seatstays and carbon layup, both of which are there to deliver compliance.
Throw in geometry that sits somewhere between the EVO road bikes and Vitus' out-and-out gravel offering, the Substance, and you have a frame design that appears capable of changing colour at will, as promised.
As for some actual measurements, a size medium with an effective top tube length of 551mm blends a stack height of 560mm with a reach of 386.9mm. All frame sizes feature 420mm long chainstays. These numbers are unsurprising given the Venon's remit and resemble those you'd expect to find on both an endurance road bike or a top gravel bike that's race-orientated.
The choice of carbon layup and the road-centric tube shapes appear to aid a lightweight build, with claimed weights for the complete bikes ranging from 16.97lb / 7.7kg to 18.73 / 8.5kg.
Vitus has also made sure the Venon has plenty of mounts, for fenders and three bidons, which only enhances its versatility.
Vitus Venon EVO-RS vs Vitus Venon EVO-GR
So how do the EVO-RS and the EVO-GR differ?
The RS is offered across four different builds, utlising Shimano's electronic 105 and Ultegra groupsets as well as SRAM's equivalent - Rival and Force AXS. All models feature Prime Attaquer wheels shod with 28mm Michelin tyres as well as Prime finishing kit.
To deal with the demands of gravel, the GR models, of which there are three, use SRAM 1x groupsets, ranging from mechanical 11-speed Rival to Force AXS. The wheels are Prime's Primavera fitted with Michlen's Power Gravel tyres in a 40mm width.
Thankfully Vitus has made the Venon's front derailleur mount removable, with the port then covered up by a dedicated plate should you opt to use a 1x drivechain. It's a minor point that could have easily been overlooked but hopefully points to a considered design throughout.
While Vitus says that calling the Venon Evo a 'quiver killer' is a cliche too far, it does appear that the bike is designed to be just that. For cyclists who don't have room for a dedicated gravel bike, literally or otherwise, the road-orentiated Venon can seemingly switch guises with a change of tires. Likewise if you opt for one of the three gravel builds.
Arguably there will be compromises - you might not choose to use a single chainring on the road, for example - but it's difficult to envisage any bike designed for both road and gravel that won't require a trade-off of some kind.
Vitus advocates a 'one bike, two wheelsets' approach for the Venon EVO. It's a solution to wringing the most out of the bike's versatility but could be cost prohibitive for some, while others may regard it as additional pre-ride faff they could do without. However, given the wide choice of tire options now available, the Venon EVO should still provide a varied riding experience even with just one wheelset.
We've got our hands on both the Venon EVO RS and the Venon EVO GR and will be posting our reviews soon.
Vitus Venon EVO pricing
Pricing for the Vitus Venon Evo is as follows:
Venon EVO-RS 105 Di2 - $3,899 / £3,599.99
Venon EVO-RS Rival AXS - $4,099 / £3,699.99
Venon EVO-RS Ultegra Di2 - $4,599 / £4,099.99
Venon EVO-RS Force AXS - $4,699 / £4,399.99
Venon EVO-GR Rival - $3,399 / £2,999.99
Venon EVO-GR Rival AXS - $4,099 / £3,499.99
Venon EVO-GR Force AXS - $4,899 / £4,299.99
Venon EVO frameset - $1,999 / £1,799.99
For more information visit vitusbikes.com
Thank you for reading 10 articles this month* Join now for unlimited access
Enjoy your first month for just £1 / $1 / €1
*Read 5 free articles per month without a subscription
Join now for unlimited access
Try first month for just £1 / $1 / €1
Luke Friend has worked as a writer, editor and copywriter for twenty five years. Across books, magazines and websites, he's covered a broad range of topics for a range of clients including Major League Baseball, the National Trust and the NHS. He has an MA in Professional Writing from Falmouth University and is a qualified bicycle mechanic. He has been a cycling enthusiast from an early age, partly due to watching the Tour de France on TV. He's a keen follower of bike racing to this day as well as a regular road and gravel rider.