Maghalie Rochette gets personal with a limited edition Rapha apparel collection and podcast series
The new collection depicts the Canadian cyclocross pro's 'kaleidoscope of race emotions'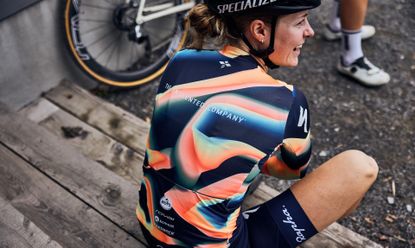 (Image credit: Rapha)
Calm, happiness, focus, aggression, excitement, awareness and confidence. According to Canadian pro cyclocrosser, Maghalie Rochette, those are the seven emotions all racers experience throughout the World Cup race season.
Everyone may have their own version of these, some favoring one emotion more than the others, but all seven come together to create the bike racer's mindset, she argues.
And for Rochette, a three-time Canadian and Pan-American champion, it is when these key emotions come together just right that she finds her winning formula.
She's certainly not alone in this and to take a deeper dive into the racer's mindset and its blend of emotions, Rochette —a frequent podcaster— has launched a 'Emotions of Racing podcast sub-series where each episode is dedicated to one of the seven emotions. For every episode, Rochette is joined by another athlete who strongly identifies with the emotion of discussion. These athletes include Life Time Grand Prix podium finisher Sarah Sturm, US national cyclocross champion Clara Honsinger, Canadian downhill mountain bike champion Miranda Miller and more.
The interplay of Rochette's race emotions served as the inspiration for apparel manufacturer Rapha's new Pro Team collection. For the limited edition colourway, each one of Rochette's identified emotions was given a color. The end result signifies the synesthesia of associating these colors with her emotions.
"Looking down at this kit while racing helps me channel the emotions associated with each of those colors and create the ideal racing mindset," the 29-year-old Quebec native said in a press release.
The new Pro Team collection (opens in new tab) includes a Pro Team Aero Jersey and Pro Team Training Jersey —available in Men's and Women's— plus Pro Team Socks, Cap and Lightweight Snood.
Image 1 of 3
Thank you for reading 10 articles this month* Join now for unlimited access
Enjoy your first month for just £1 / $1 / €1
*Read 5 free articles per month without a subscription
Join now for unlimited access
Try first month for just £1 / $1 / €1
Cycling Weekly's North American Editor, Anne-Marije Rook is old school. She holds a degree in journalism and started out as a newspaper reporter — in print! She can even be seen bringing a pen and notepad to the press conference.
Originally from The Netherlands, she grew up a bike commuter and didn't find bike racing until her early twenties when living in Seattle, Washington. Strengthened by the many miles spent darting around Seattle's hilly streets on a steel single speed, Rook's progression in the sport was a quick one. As she competed at the elite level, her journalism career followed, and soon she became a full-time cycling journalist. She's now been a cycling journalist for 11 years.