Moots goes carbon and electric: a first look at the Moots Express gravel e-bike
The top-end bike is lightweight, has internal cable routing and a more than 100-mile range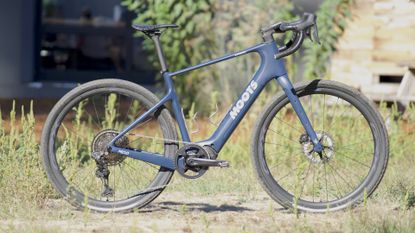 (Image credit: Future)
Moots, the American bike brand that's become synonymous with titanium, is making a double departure from the norm with the launching of the Moots Express, a premium gravel bike that's made entirely out of carbon and sports a Shimano e-assist system.
Moots has built beautiful, handcrafted, well-regarded titanium bikes for over four decades. Despite its surprising shift from the existing Moots collection, the Express is simply another way for Moots to equip its customers to ride "as far and as long as your heart desires."
In fact, Moots told Cycling Weekly that the inspiration for an e-bike came from its own customers.
"We speak to our customers pretty regularly and we have great relationships with them. Around 2017-2018, we were starting to see more of those conversations have common questions or escalations of 'When's Moots going to make an e-bike?' 'What's Moot's stance on making an e-bike?' Or, 'Have you ever thought about making an e-bike?'. It just started coming up more and more," explained Nate Bradley, the brand's president.
Moots proceeded to have extensive conversations with its customers, dealers and partners, and by 2019, it had a concept in mind.
To be worthy of joining the fleet of existing metal bikes, the e-assisted bike had to meet two primary objectives. First, to enable riders to seek and explore further. And second, to offer the rider comfort, the ride quality, the ability to conquer mixed trail conditions and the long-term durability that Moots prides itself on.
The end result is a sleek, full-carbon and adventure-ready gravel steed with top-end spec and an impressive claimed range of more than 100 miles.
| Also read: 'It's definitely risky' - Moots on launching its first carbon and e-assisted bike.
The Moots Express at a glance:
A lightweight, full carbon frame:

"We looked at titanium," Bradley said. "But we ruled out titanium early on as being a suitable material to make an e-bike out of. To work around the drive unit and battery, it quickly became very complex and heavy, and we were losing that ride characteristic or rideability that we always praise for titanium tubing and that we're known for."
To read more on why and how Moots came to make a carbon e-bike, visit our in-depth interview with Nate Bradley here: 'It's definitely risky' - Moots on launching its first carbon and e-assisted bike.
The frame sports ample on-the-bike storage options, including two water bottle mounts in the main triangle, one being a 3-bolt variant to accommodate frame bags, and three eyelets on each fork leg. There are also integrated fender mounts on the front and rear of the bike.
The drive unit:
The Express is built with a class 3 Shimano EP801 drive system with a powerful assist of up to 28mph. The power curve is able to be tuned through the Shimano E-TUBE app. The drive unit is supported by a Shimano 504wH battery that is easily removable via one bolt under the battery access panel.
The drive unit is paired with Deore XT Di2 shifting, a top tub mode button and a Shimano Steps display. The 1x11 system consists of a 47t front chainring and an 11-50t cassette. The right shifter controls the derailleur while the left shifter adjusts the assist mode.
Range:
Depending on the assist level use, rider weight, elevation gain, and weather conditions, the bike's 504wh battery has a claimed range of more than 100 miles.
"I'm about 165 pounds probably with riding gear and I think the most I've gotten is 126 miles, and over that course, I easily had 10,000 feet of vertical as well," said Bradley.
Finish kit:
The Express sports Moots' own carbon seatpost and cockpit, which features fully internal cable routing for a sleek aesthetic and room for bar bags.
The bike rolls on Shimano GRX carbon wheels wrapped in 50c Panaracer GravelKing+ tires with plenty of clearance to spare.
Availability, weight and price:
Bradley told Cycling Weekly that only 200 units will be made annually. These will come in four stock frame sizes: small, medium, large and extra-large.
A ready-to-ride, medium-sized Express weighs in at 33 lbs (14.9kg).
The Express is available now directly from Moots and its authorized retailers for $9,999.
Thank you for reading 20 articles this month* Join now for unlimited access
Enjoy your first month for just £1 / $1 / €1
*Read 5 free articles per month without a subscription
Join now for unlimited access
Try first month for just £1 / $1 / €1