'It's definitely risky' - Ti specialist Moots on launching its first carbon and e-assist bike
After a three-decade dedication to titanium, Moots launches a carbon e-bike. Moving with the times or a risky move?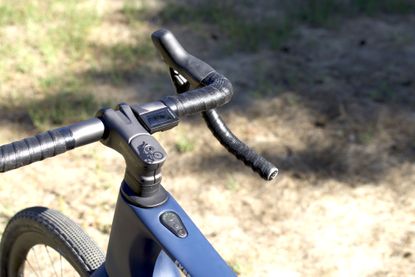 (Image credit: Future)
American bike brand Moots is proud of its long-term dedication to one material: titanium. For more than three decades, Moots has exclusively built its renowned frames from the strong and lightweight metal. The brand is practically synonymous with the material and widely considered titanium experts, praised for their meticulous craftsmanship, precision engineering and the luxurious ride quality the bikes deliver.
So it came as a bit of a surprise that Moots would drastically depart from its heritage in unveiling its newest bike: the Moots Express, a fully carbon bike and an electric bike at that.
"We're obviously aware of [this being a departure]. It's not just that the bike is made out of a different material, it's into a different territory than we've ever been located before as a brand. On top of that, it's a completely different color than what everybody's used to seeing from us," Nate Bradley, the brand's president, tells Cycling Weekly.
But Bradley assures us that the Express meets Moots' two core objectives: to enable riders to seek and explore further and, despite the change in material, to offer the rider the comfort, the ride quality and the long-term durability that Moots prides itself on.
Why go after the e-bike market?
The Moots Express, Bradley says, was inspired by existing Moots customers.
"We speak to our customers pretty regularly and we have great relationships with them. We were starting to see more of those conversations have common questions or escalations of 'When's Moots going to make an e-bike?' 'What's Moot's stance on making an e-bike?' Or, 'have you ever thought about making an e-bike?"
Moots has been producing bikes for more than 40 years. It's clear that quite a few loyal Moots customers, who, after riding their trusty titanium steed for a decade or more, are now intrigued by the benefits of an electric assist bike. A bike that allows them to continue exercising and completing the rides they're used to doing without the strain on the body.
"Yes, obviously a potential Express customer is an existing Moots customer or an existing Moots customer more or less becomes our salesperson to the next person that would consider this bike," agrees Bradley. "But we hope to tap into new markets as well."
There's no denying that e-bikes are a staying trend, and Bradley recognizes that. After extensive conversations with its customers, dealers and partners, Moots decided to go for it.
"We can fight it or we can put it on the fringe and learn more as we go. We will be building titanium gravel bikes probably till we're blue in the face — that's the core of our business. The Express comes in as the new sibling and rounds out the family really well. Now, we really have a gravel bike for anybody or anywhere in the world."
Is it a risky move?
A drastic departure from a brand's rich and celebrated heritage does come with some risk. Moots is practically synonymous with titanium; the change in material puts in question the brand's identity and certainly, there will be those who will object to this electrified and carbon addition. Additionally, the e-bike market is a highly competitive one. Moots' $10,000 e-bike has to compete with some of the biggest and well-established brands in the industry — all of whom have both carbon expertise and e-bike experience.
"It's definitely risky," Bradley agrees. "But I think that we're trying to be highly calculated, and we wouldn't have done this if we didn't feel that there was potential for Moots to grab more people's attention."
Producing around 1200 bikes a year, Moots is a relatively small bike manufacturer. As such, it has limited availability in terms of human, financial, and physical resources to jeopardize a new venture. This is why Moots decided to produce just 200 of the new e-bike.
"We have made a lot of investments to get to this point and spent a lot of time. We'll just have to see how this goes, and that'll dictate what the future holds as well. Obviously, this could be a slap in the face and maybe even put a little bit of tarnish on the shiny five letters of Moots," Bradley recognizes. "Or this could be an opening to bring more people into the family."
Why gravel?
Bradley says gravel was the obvious choice when considering the brand's future directions.
"What are we good at? What do we do? We're really known for building high, premium-level bicycle frames. And with our home base in Steamboat Springs, we've been riding gravel before it got categorized as gravel. We've been at the lead of this gravel market for a long time and gravel is who we are, so to put 2 and 2 together, a gravel e-bike seemed like a good spot for us to start," he says.
Why carbon?
Moots isn't completely new to composite manufacturing. Moots has produced numerous carbon components over the years, including stems, handlebars and forks. However, a modern carbon bike frame is a first for Moots but was needed to keep the celebrated ride quality alive.
"We looked at titanium," Bradley said. "But we ruled out titanium early on as being a suitable material to make an e-bike out of."
Bradley explains that to incorporate the bike's drive unit and battery and account for the torque and extra weight, the bike quickly became very complex and heavy. The process involved 3D printing, machining, tube changes and playing with the geometry.
"We were losing that ride characteristic or ride-ability that we always praise for titanium tubing and that we're known for. It just came to the point where we recognized that we needed to do it the smart way and make it out of the material that's appropriate for this application," Bradley says.
What makes the Moots e-bike different from anything else already on the market?
As mentioned, the e-bike market is booming, and there are more gravel e-bikes coming to market every year.
In the high-end category, the Express will have to compete with the likes of the Cannondale Topstone Neo, Specialized's S-Works Turbo Creo, Canyon's Grail:ON CF and the Pinarello Nytro, just to name a few.
What, then, does Moots have to offer that the others may not have?
"We really set out to create something that we felt was capable," says Bradley, who's been watching the evolution of the electric car market with interest.
"I got really obsessed with the research around range because what happens with these battery powered systems is that people get range anxiety. They watch the battery, they stop pedaling, they coast more and then you realize, what is supposed to be enjoyable about going out for a bike ride has just added this new layer of stress," Bradley explains. "So, range was an important thing, and one that differentiates us from the rest."
The Moots Express is built around a class 3 Shimano EP801 drive system with a 504wh battery. The complete bike, in a size medium, weighs 33 pounds and has a claimed range of more than 100 miles.
Bradley says that in trying to find the limits of the bike, he reached 126 miles before the battery ran out. "I'm about 165 pounds probably with riding gear, and over that course, I easily had 10,000 feet of vertical as well," he shares.
In addition to range, capability to Moots also means the ability to tackle mixed terrain.
"We didn't want people to see this as just like a road bike that has knobby tires. We want people to see this as a capable adventurer with the benefit of an assist," Bradley says. "We didn't want the bike to be limiting for people's exploration desires."
And finally, like every other Moots on offer, the Express is built to be durable and reliable, from a quality and reputable Shimano drive system and components to an easily removable and serviceable battery.
Read more about the bike and its features In our launch story here: Moots goes carbon and electric.
Thank you for reading 20 articles this month* Join now for unlimited access
Enjoy your first month for just £1 / $1 / €1
*Read 5 free articles per month without a subscription
Join now for unlimited access
Try first month for just £1 / $1 / €1