The all-new Specialized Turbo Tero X expedition bike means you can take it all with you
The brand's first 'SUV' electric bike promises awesome load-lugging and a big range, but will it convince people to leave the four wheeled version behind?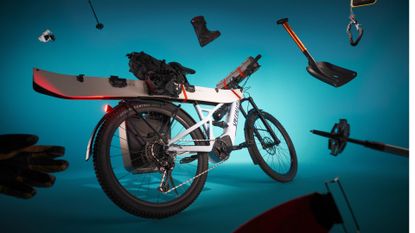 (Image credit: Specialized )
The rugged multipurpose Specialized Turbo Tero X electric expedition bike has landed.
The brand says that the Tero X came about from a blend of its e-MTB knowhow, with a healthy sprinkling of cargo, commuting and adventure nous thrown in the mix.
This latest offering adds to the Specialized's near dominance in the best electric bikes domain, with an option for just about every discipline of cycling, and it now appears to have conjured a whole new SUV bike category that could also take on the best gravel and adventure bikes.
With the aim of creating a jack of all trades bike, the Tero X could be the first SUV eco-conscious cyclists can endorse. But will it really get the diehards out of the gas guzzlin' oversized all-terrain vehicles and on to a bicycle equivalent?
Specialized Tero X e-bike - MTB, cargo, commuter or something else entirely different?
Much will depend on just how wedded you are to your four wheels and ultimately how much stuff you take with you when adventure cycling.
Capable of carrying an additional 30kg of irregular shaped loads, the multiple mount points allow you to carry skis, golf clubs, fishing gear and, to quote the brand, 'performance-minded baskets and panniers like the Coolcave' (a plastic bucket pannier which forms part of the Fjällräven X Specialized collab to the uninitiated).
Should you indeed land the salmon, choose to adventure with kids, or just need more gear, Specialized say the bike is trailer towing happy.
The all-new overlander e-bike builds on Specialized's launch of the slightly tamer, more traditional Turbo Tero mountain bike, which was released in 2021, and when the Turbo Vado and Turbo Como were last given their update shakedown.
Specialized say that the Tero X differs from a regular electric cargo bike or commuter bikes due to it's full suspension chassis, providing 130mm front and 120mm rear travel, which comes courtesy of RockShox. It's also equipped with the brand's own Ground Control off-road knobbly tyres, best known for their fast rolling and grip in the XC mtb world.
Specialized Tero X power and control systems
Designed to be all you could ever need on any adventure, the range topping Tero X 6.0 comes with Specialized Full Power 2.2 motor and a 710Wh / 90Nm torque / 250W nominal battery, which with optimal riding conditions could, according to the brand, deliver a range of up to 120km / 75miles on ECO mode ridden at a 25 kph speed limit.
Should the call of the wild be so great you discover that you have roamed further than usual, you'll be pleased to know that in order to squeeze out as much ride range as possible the bike comes with on board range optimisation tools.
Building on Specialized's existing digital platforms, the Tero X adopts the brand's own Mastermind display unit and is teamed with the Mission Control App, which we've seen on the likes of the Specialized S-works Turbo Creo SL .
This fully customised set-up allows the user to not only see live ride data, but also allows for real-time tuning of your e-assist power levels, and all from your handlebars. This can help you maximise battery life and ride time by using the suggested fine tuning of both the motor and power delivery. The system is also configurable to allow the rider to fiddle and dial motor deployment to their own personal preferences, making for a fully customised ride feel.
And because even the most seasoned explorers need to buy toilet roll, you'll be pleased to know that when you do venture away from the bike to nip to the shops, the same Mission Control App controls the Tero X's built-in security measure, the Turbo System Lock. Specialized says that this feature has been specifically 'designed to make bike thieves miserable' as it effectively disables the bike's motor while activating a motion sensor alarm.
Other built in features are twin lights, with a claimed 1000 lumen front and speed-sensitive rear, which brightens when deceleration is detected, like a regular car brake light.
Elsewhere, there are integrated front and rear racks, with both the Specialized Front Rack and Adventure Plate compatible with MIK accessories. The DryTech full coverage fenders come as standard too, as while it's fun to hit the mucky stuff under wheel, it's not so much fun to walk around covered in it.
Specialized Tero X range in full
There are three Specialized Tero X bikes to choose from, all of which feature an aluminum frame and a remote controlled dropper post, as well as the integrated Mastermind display unit, Mission Control softwear, lights, racks and fenders.
The flagship model, the Tero X 6.0 comes with a Specialized 2.2 motor, with a top assist speed of up to 28mph, Rockshock Lyrik Select+ forks and Rockshox Deluxe Select rear suspension, SRAM X01Eagle 12 speed. It is the lightest in the range at 58.1lbs/26.4kg, but the most expensive at $6,500/ £6,000.
Middle of the pack is the Tero X 5.0, which features much the same spec as the Tero X 6.0, but this time has a slightly lower torqued 2.0 motor and RockShox 35 Silver TK suspension, a slightly heavier and less sophisticated version, but allows the bike to offer RockShox performance for a slightly tighter budget. The whole bike does weigh in a couple of pounds higher at 59.9lbs/ 24.2kg, but also saves a thousand dollars on the price tag at $5,500/ £5,000
Completing the range is the Specialized Tero X 4.0. This is the baby of the family, with a top range assist speed of 20mph, and the smaller 50Nm torque from the Full Power 2.0E motor and 530Wh battery. This time it shares the same suspension set up as the Tero X 5.0, and keeps the SRAM Eagle 12-speed groupset. What you don't get in speed and torque, you do keep in weight, with this dropping in between it's siblings weights of 58.9lbs/ 26.7kgs, and savings, with the price tag swinging at $4,500/ £4,000.
Specialized Tero X - is it worth it?
Does the Specialized Tero X present a true utopian vision of the future, where we'll see even the most ardent petrolheads stepping away from the revving engine and towards the electric two wheeled bigfoot?
Probably not, but it very well could be the answer to the plethora of daily questions from e-curious folk who aren't sure whether to go for an e-MTB, e-Cargo or e-commuter bike, because they want do a bit of all of it and can't work out what's best to go for.
However, the cost of either of the three bikes in the range, does put them all in the upper end price brackets for any of the bikes within categories that the Tero X could service.
For what it's worth, many of the Tero X features are reasonably close to my ideal. I have a habit of pushing the boundaries for most electric bikes. Living in a semi-rural location means that my journeys take in plenty of off road sections, which will inevitably find a bottom bracket height out. I'm also predisposed to overpack due to constant FOMO; one never wants to decline a quick game of boules in the park, or a spot of bird spotting en-route for the want of the correct equipment.
If the next iteration of the Specialized Tero X could be pillion friendly and come with the ability to mount a kids bike, it might be a total winner for me.
For more information visit specialized.com
Thank you for reading 20 articles this month* Join now for unlimited access
Enjoy your first month for just £1 / $1 / €1
*Read 5 free articles per month without a subscription
Join now for unlimited access
Try first month for just £1 / $1 / €1