Tens of thousands of pounds worth of bikes stolen from Saint Piran team
Team boss Richard Pascoe said small teams "cannot afford to sustain these losses".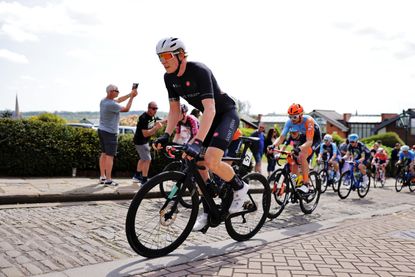 (Image credit: Alex Whitehead/SW Pix)
Cornwall-based cycling team Saint Piran suffered a financial hit last weekend after three prototype racing bikes were stolen from a team vehicle in the Netherlands.
The bikes are understood to total around £30,000 in value.
The team were in Roosendaal competing at the Midden Brabant Poort Omloop race on Sunday.
A team van was broken into at nearly 5.00 in the morning of the race [Sunday 19 June] and three bikes with matching hand-built Pacenti wheel sets were all taken.
Other team vehicles were also damaged in the robbery.
Speaking to Cycling Weekly, team owner Richard Pascoe explained the huge impact this could have on the Cornish team's season. "Unfortunately this is becoming increasingly common in races - even at the highest level. Teams such as ours, particularly at a continental level, cannot afford to sustain these losses." said Pascoe.
CCTV images showed one of the bikes being taken at 4:46 am, Dutch time, on Sunday morning. Members of team staff explained that while the bikes were being kept as spares for the race, shortages in the bike industry in the UK - exacerbated by the impact of Brexit - will make them harder to replace.
Steve Lampier, former British professional cyclist and team manager at Saint Piran, was in the Netherlands for the race and speaking to Cornwall Live said: "These are driven on the race, and are there if we need a spare. We're now short on three of those, and like the car industry, bike parts have been hit hard by Covid, shortages, and Brexit. It's hard to get hold of stuff so even with the money, we're a bit screwed."
Pascoe added: "We are only half way through our season and while insurance often covers some financial losses, it ultimately just adds to our cost to run the team longer-term and we have a long way to go before our last race this season. Clearly bikes are pretty integral to a cycling team so if the cost of providing those increases, teams like ours will suffer. Obviously the other major issue is the availability of bikes and parts to replace them which a lot of teams are struggling with."
While the stolen bikes were spares, they were also being used by some riders to train on at home and losing them has meant some riders are now left without bikes.
Pascoe called on the team's fans for help with replacing the bikes. "This is where the global community that surrounds Saint Piran Cycling can come into its own with projects such as Crowdfunding and wider support. I believe these approaches will become integral to pro cycling going forward as we all look for more sustainable ways to run teams. It's our number one priority." he said.
Despite the eventful start to the day for Steve Lampier and Saint Piran, the riders still managed to put in a performance in the Netherlands with Berkshire-based, Charles Page, taking 5th place in the race.
Thank you for reading 10 articles this month* Join now for unlimited access
Enjoy your first month for just £1 / $1 / €1
*Read 5 free articles per month without a subscription
Join now for unlimited access
Try first month for just £1 / $1 / €1
Tom is a News and Features Writer at Cycling Weekly, and previously worked in communications at Oxford Brookes University. Alongside his day job, prior to starting with the team, he wrote a variety of different pieces as a contributor to a cycling website, Casquettes and Bidons, which included interviews with up and coming British riders.