Brompton Electric P-Line Urban review - the nippy ride that's an acquired taste, at best
Brompton's new app makes its electric bikes easier to use and has - maybe - converted this sceptic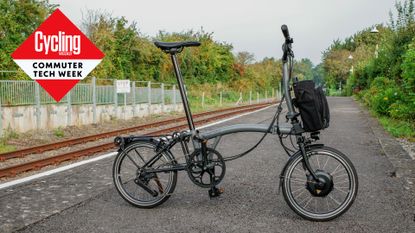 (Image credit: Rob Spedding)
The Brompton is a brilliant folding bike, of that there's no doubt. Add in power and, for many, it'll be the perfect urban mobility machine. The ride, though, is an acquired taste, with the power boost adding extra responsiveness to an already very nippy machine. The separate battery unit feels dated compared to more modern integrated solutions and while the control app is a welcome addition, it just isn't as easy to use as a bar-mounted controller.
Reasons to buy
+

Smooth, instant power

+

Legendary folding prowess

+

Roller cage adds to portability

+

Simple app
Reasons to avoid
-

Average range

-

You have to decouple bike and battery to fold and carry

-

Have to remove hand from bar to change power settings
You can trust Cycling Weekly. Our team of experts put in hard miles testing cycling tech and will always share honest, unbiased advice to help you choose. Find out more about how we test.
If you've found a guide to the best folding bikes anywhere on the worldwide web that doesn't include Brompton, then congratulations. It's fair to say that the bikes from this esteemed UK brand are seen as the benchmark for self-powered multi-modal two-wheeled transportation and, as a result, appear on every list I've ever seen (or been involved in compiling).
It's the same story if you Ask Jeeves (Google it, kids...) to find you the best electric folding bike. A powered Brompton will be towards the top of the page. Our own guide is a case in point with the Brompton Electric C-Line, first introduced in 2018, still sitting pretty.
I'll admit that I've never been completely sold on Bromptons (and other small-wheeled folding bikes I've ridden), but spending time with another premium e-folder, the Gocycle G4i earlier this year, did go someway to changing my opinion.
So, when the opportunity to test Brompton's latest, and lightest, new app-equipped electric model - the P-Line Urban - came along it seemed only fair that I give the little West Londoner another chance.
Brompton P Line Urban: Construction
It's hard to dispute the idea that the Brompton is a design classic. Back in May 2023 we reported that one of the first production bikes from 1981 was being auctioned off with a starting price of £25,000. (We'd love to tell you that it eventually beat the $450M paid for Leonardo Da Vinci's Salvator Mundi in 2017 but we can't find any evidence...)
Take a look at that early 80s machine and a 2023 model and there are surprisingly few differences. Key is that the ingenious three-point fold of the original bikes has carried through. And that's because it works really well.
I'll admit that I did have to watch the brand's Folding A Brompton explainer a couple of times at first, but it didn't take long for the procedure to become muscle memory. I'm afraid I didn't come up with a mnemonic or song to help remember it though - you'll have to watch the video.
The clamps are simple to fasten and easy enough to twist to a tightness that gives you confidence that you won't accidentally origami as you ride.
Once folded the P Line is, of course, super compact - measuring 643mm high, 584cm long and 269 wide. As a comparison the Gocycle I tested at the start of the year folds to 615mm high, 880mm long and 390mm wide - so a noticeably bigger bike.
However... To fold the Brompton you do have to remove the front-mounted, click-to-fit battery and then carry that separately to the bike. It does sit within a shoulder bag, but considering a Brompton is a bike aimed at commuters this is likely to mean you'll be carrying your folded bike up the station stairs and onto the train while managing two bags.
The battery bag does have a 1.5l capacity, so you can stash a few small things, but it's no use for your packed lunch and laptop.
In the introduction I said that the P Line Electric Urban is Brompton's lightest electric bike to date. That's been achieved by carrying over the key features of the non-electric P Line - namely a titanium rear frame, and lightweight components such as the chain, saddle, rear wheel and Tubolito inner tubes. The front of the bike, including forks, are steel.
A word of caution on those weight saving Tubolito tubes - I used a mini-pump to inflate the rear tyre and within seconds the tube's core came out. Luckily this was pre-ride so I wasn't left swearing at the road side. I did eff and jeff a little bit in the garage though, and my local bike shop told me they've seen this before.
The bike I was testing was actually the P Line Electric Urban with Roller Frame, which meant some of the weight saving was negated by the additional rear rack. That rack, though, did help to make for a stable stowing solution, helped portability and, of course, could handle up to 10kg of baggage.
Weight-wise our scales measured the P Line Electric Urban at 18.81kg with the battery attached and 14.69 once the battery was removed. Brompton says that the non-powered P Line weighs 'from 10.2kg' which would suggest that the front wheel hub-motor adds at least three extra kilos to the weight of the naturally aspirated bike and the battery 4kg on top of that (Brompton claims 2.89kg, and my bag did contain the charger).
As with all Bromptons since 1981, the wheels are 16-inchers which help with the compactness and contribute to the bike's ride characteristics. As mentioned, though, the front wheel is where you'll find the 250W motor.
This is powered by that front mounted 300Wh 36V battery which clicks into place securely, but is also easy to remove with the press of a button. The battery itself has three LEDs to indicate power settings and soft touch buttons which allow you to switch those settings and engage the included front and rear Busch & Muller AVY LED lights. Fenders are also standard.
The battery needs to be removed to charge and a full refuel takes four hours.
This set up is exactly the same as the original bike and you can operate the Electric P Line from the battery pack as was the case at launch. However, new for electric Bromptons is an iPhone and Android app that negates the need for fiddling with the battery. More on both scenarios later.
Brompton Electric P Line Urban : The ride
I've mentioned the 'distinctive ride characteristics' of the Brompton already. If you're familiar with Brompton reviews you may have heard 'twitchy' used a few times. That's certainly been my experience with the Brompton - and other 16"-wheelers - in the past.
The geometry created by the small front wheel, straight up fork and head tube and narrow bars certainly make for very direct steering. A Brompton sometimes feels as if it reacts to your input before you've made the actual input.
To be fair to small-wheeled bikes it is just a case of getting used to it and adapting your riding accordingly. On the plus side, it really does make nipping around town good fun.
That said, the 'responsiveness' of the Brompton's handling is, I feel, more noticeable on the electric versions. If you opt to forego the app and use the controls on the battery itself, on-the-fly adjustments mean you need to take your hand off the bar and reach forward (and look down) to switch power modes. Add in the extra front end weight from the hub motor and that's when the twitchiness becomes more noticeable.
The Tubolito tubes I talked about earlier come inside Continental Contact Folding tyres which run smoothly. The Contacts are fine when it comes to absorbing most bumps, aided at the back by Brompton's small elastomer shock absorber. That said, I still felt chatter through the back end of the bike on rougher surfaces.
Using the phone app improves things - a Quadlock mount and adaptor suited to your smartphone is included. The design of the mid or high Brompton bar options for the Electric P Line does mean that your phone is best mounted in the middle, which I still feel is a less than ideal position for the controls.
Sure, the phone sits higher and closer to you and it is easy to swipe to change settings, but being able to control power without moving your hand through bar mounted switches is better and, to my mind, safer. I feel the same about e-bike controls in top tubes.
The app itself is really very simple to use. After you've registered your bike using its serial number, pairing with Bluetooth is quick and you're presented with a dashboard that, initially, simply displays the remaining juice.
The app logs your total distance travelled, offers graphics when you hit milestones such as riding the equivalent of London to Paris, lets you name your bike and add its picture. Fun if you like that sort of thing... More usefully it'll give you service reminders and locate your nearest Brompton specialist store.
The actual riding data is nice and simple - time of day, speed, average speed, trip distance and time and power level. You can have an even simpler view which shows just the time, your speed and the power level. Unlike the Gocycle the app doesn't allow you to tweak power settings and the like. I actually appreciated the simplicity!
Of course, we're talking an electric Brompton here so you want to know about the energy saving boost you get and the range right?
As already mentioned the power is delivered through a front hub motor. this motor has changed little since launch in 2018 but - if this is important to you - was designed in conjunction with Formula One's Williams Engineering.
Torque sensors in the bottom bracket tell the motor when to kick in and it did seem to vary depending on which of the three power settings I was in. It wasn't a huge difference but I certainly felt that having it at level three when waiting at lights, before dropping down to - usually - two elicited the best responsiveness.
Once powered up, delivery is smooth in all three modes (you can ride unassisted if you fancy a proper workout), although it is accompanied by a low hum.
Fact: I was once overtaken by former British pro rider David Millar, riding an early electric Brompton, while I was climbing on a road bike. To be fair to Millar, he wouldn't have needed any electrical assistance to put time into my legs, even if he'd been on a standard Brompton. For the rest of us, though, the motor on the Electric P Line doesn't really provide a kick-up-the-backside speed boost like some, so there's no faking retired racer vibes on climbs.
Even if you're using power level three and the lowest of the Brompton's four gears you're still only receiving a welcome shove - I still had to work reasonably hard on the many hills around my home town of Bath.
Obviously, cheating your way to Strava K/QOMs isn't what the Brompton is for, and at power level two the P Line is a great low effort urban runabout. Brompton states that the P Line's range will fall between 20-45 miles (30-70km). I found that using the middle power level for most of my riding, with occasional forays into level three for short climbs returned around 26 to 30-miles. That's almost exactly the same as the aforementioned Gocycle, and acceptable for a bike that will mostly be used for short trips.
Brompton Electric P Line Urban: value and conclusion
Non-powered Bromptons start at $1150/£995 for the three-speed A Line, and top out at £4, 415 for the titanium and carbon T Line. The Electric P Line Urban Roller on test here is $4700/£3,785, without the Roller Frame it's cheaper in the UK at £3,695, but the same price in the US.
These prices are similar to the mechanical Gocycle G4 - at the time of writing on sale for $3499/£2999, while the lowest priced Brompton Electric is the C Line at $3800/£2995.
Analogue Brompton owners do, of course, have the option of using e-bike conversion kits from the likes of Swytch or Cytronex for less. If you're already a Brompton fan, want a powered version and can afford it, the Electric P Line Urban will no doubt be on your shortlist, although the slightly cheaper C Line offers an equally tempting package.
Spending some quality time with a Brompton has certainly brought me around to understanding its charms when used as intended, although I'd probably opt to use one without any assistance.
From a folding e-bike point of view, I do prefer the ride of the Gocycle and, with both at a similar price, that'd be my choice. That said, the Gocycle simply doesn't compare to the Brompton for compactness when folded, so if it's true powered portability you're after then the latter is the winner.
Brompton Electric P Line Urban: specs
Shifting: 4 speed derailleur
Frame: Steel mainframe, titanium rear frame
Wheels: Front - Single wall rim, 250W Brushless DC motor. Rear - 4 speed rear hub with aluminium hub with sealed bearings, 4 speed freehub body and hex key axle
Battery: 300Wh 36V with LED display
Weight: As measured - 18.81kg with battery attached/14.69kg without
Claimed range: Up to 45 miles
Thank you for reading 20 articles this month* Join now for unlimited access
Enjoy your first month for just £1 / $1 / €1
*Read 5 free articles per month without a subscription
Join now for unlimited access
Try first month for just £1 / $1 / €1