Pro bikes: Peter Sagan's Specialized S-Works Venge Vias (video)
We take a closer look at Peter Sagan's stunning Specialized S-Works Venge Vias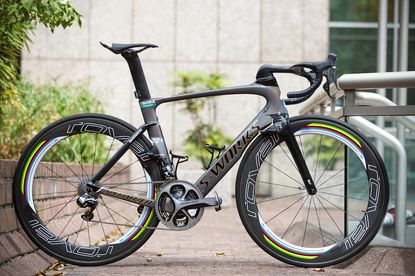 Here's Peter Sagan's stunning Specialized S-Works Venge Vias, in an awesome dark grey finish splashed with the world champion colours.
Sagan took a different approach with his bikes at this year's Tour de France, riding the new Specialized Tarmac on all but the flattest of stages, presumably because of the Vias' weight penalty.
It is, of course, far more aerodynamic, and it comes with all the trimmings you'd expect from a world class aero machine.
The front end is integrated, so the fork fits flush with the head tube and stem, which itself is a bizarre, 143mm long due to its downward angle. Sagan is also using Specialized's aero bars (yep, the Sea Gull bars) in a size 42cm.
Interestingly, he is using Shimano's older Dura-Ace R9050 Di2 groupset, instead of the new R9150 groupset, presumably so he can run his dual sided 4IIII power meter. To keep pace with the big sprinters he'll be pushing a large 54/46 chain ring and an 11-28 cassette.
The rest of the bike is made up of either Specialized's kit or its sister companies. His wheels are Roval CLX 64 wheels, coloured after the world champion stripes which he currently holds.
Eschewing aerodynamic norms, he runs 26mm Specialized Turbo cotton tyres, perhaps to take some of the harshness out of the frame.
Sagan looked to be on dominat form in the Tour, storming to victory on stage 3 despite unclipping out of his pedal in the final few meters. However, it ended as abruptly as it began after being disqualified for colliding with Mark Cavendish on Stage 4 of the race.
Thank you for reading 10 articles this month* Join now for unlimited access
Enjoy your first month for just £1 / $1 / €1
*Read 5 free articles per month without a subscription
Join now for unlimited access
Try first month for just £1 / $1 / €1