10 steps to doing the off-season like a cyclist
The season of weight training and nutritional debauchery is here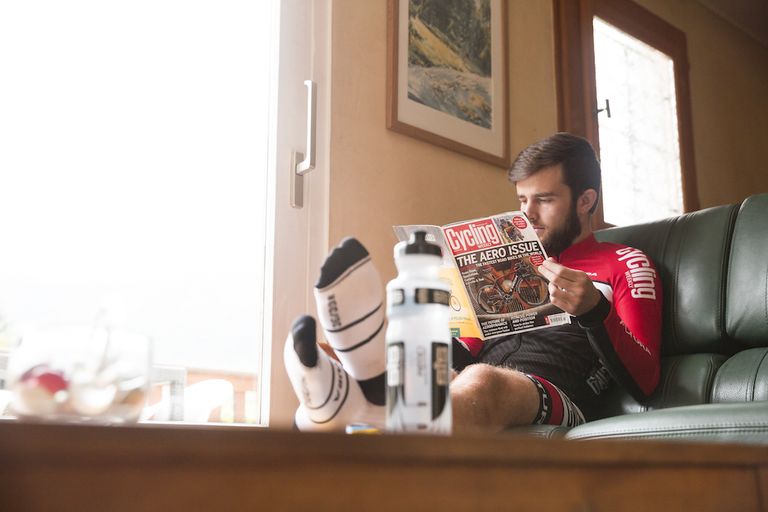 (Image credit: chris catchpole)
The dust has settled on the racing season - the rainbow stripes have been re-administered and even most of the pros have packed their bikes up for the annual cobweb gathering competition that is the off-season.
Amateur cyclists, to a certain extent, are no different - though perhaps a little less informed and not quite as fit.
Here's a guide to getting the off-season 'right', by all amateur cyclists ever...
Spend a week doing nothing, and telling everyone about it
Start by binging on the recovery which you've failed to give your body all season. Except those hours hunched over your desk at work - which don't count.
>>> Tips for taking an end of season break
Use the hours you would spend riding your bike to slope around the house, dragging your legs and mumbling some sort of justification for living in compression pants despite not actually exercising. Soon those you share the home with will be begging for the break to end.
Engage in culinary debauchery
Power to weight is irrelevant between now and... ohh... March, maybe. And the pre-season weight loss drive wouldn't be nearly so fun if you didn't gain enough weight to actually reach crisis point - so best start now. Pint of Guinness with a side of cake, please!
See all neglected friends and family members
Those who don't cycle with you are starting to forget what you look like when not dressed in lycra and disappearing out the door at earliest opportunity.
Spend a few weekends catching up. This may include picking up a few DIY jobs and household chores you've managed to avoid by travelling to events far, far away. Just make sure you punctuate conversations by informing everyone that this is an annual treat.
Find ways to destroy body in minimal time, without the bike
One week no exercise: complete. Your muscles are starting to return to a state where a small child could prod your quads without resulting in squeals and just-about-stifled tears. So obviously it's time to screw it all right up. Really make your hard working physio/osteo/sports masseuse wince.
>>> Six tips for off season training
Suggested exercises include time in the gym (because core strength) and running (because bone density). Pilates and yoga are your other options. Anything that limits your ability to walk the following day.
>>> How to build a core strength programme for cycling
Try cyclocross
Buy a new cyclocross bike, love it for a month, then break a mech hanger and spend the remainder of the 'cross season trying to buy the correct replacement.
Write a training plan
Once about a month has passed, you might want to start thinking about how you're going to organise your winter for best results next year.
>>> How to resume training after a break
Settle down with a coffee (flatwhitemachiatospresso) and a slab of cake (the dietary debauchery can continue until January), an Excel spreadsheet or a notebook with lots of coloured pens.
>>> How to write your own annual training plan
Skim the opening chapter and headings of a few books until you feel like you're pretty much in a position to take over coaching of the GB Olympic squad and away you go.
Subscribe to Zwift
Training and competing with other people, but in the comfort of your own home, all via an online platform? Aces! Until you discover it's quite hard and abandon.
Hire a coach
Follow your own plan for a few months, to varying degrees of dedication. Note that self-coaching isn't proving entirely successful, and hunt out that mate of the guy in your cycling club who sometimes writes plans for people.
>>> Why everyone needs a coach
Give the coach about a month to prove themselves. Question everything they ask you to do. Discuss the plan with your cycling mates and determine you all know better. Decide to save yourself the cash and spend it on a new bike - which will make you much faster.
Buy a new bike
Or wheels, or power meter. Be sure to spend all available hours researching the purpose - especially if this provides excuses to avoid actual bike riding.
Do it all exactly like last year
Because, last year wasn't so bad - and if you hold the same form, maybe you can win the club handicap cup again.
Just ride the first 10-mile TT of the season on that cyclocross bike you didn't ride all year.
Michelle Arthurs-Brennan is Cycling Weekly's Tech Editor, and is responsible for managing the tech news and reviews both on the website and in Cycling Weekly magazine.
A traditional journalist by trade, Arthurs-Brennan began her career working for a local newspaper, before spending a few years at Evans Cycles, then combining writing and her love of bicycles first at Total Women's Cycling and then Cycling Weekly.
When not typing up reviews, news, and interviews Arthurs-Brennan is a road racer who also enjoys track riding and the occasional time trial, though dabbles in off-road riding too (either on a mountain bike, or a 'gravel bike'). She is passionate about supporting grassroots women's racing and founded the women's road race team 190rt.
She rides bikes of all kinds, but favourites include a custom carbon Werking road bike as well as the Specialized Tarmac SL6.
Height: 166cm
Weight: 56kg
Michelle Arthurs-Brennan on Instagram
Michelle Arthurs-Brennan on Twitter