Elite cyclist, full-time worker: finding the right balance to stay at the top
Just how do you hold down a full-time job and compete at the highest level? Stephen Shrubsall meets the ordinary people who've dared to dream big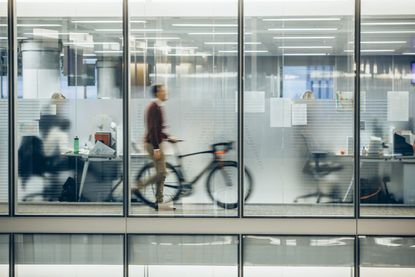 Get The Leadout Newsletter
The latest race content, interviews, features, reviews and expert buying guides, direct to your inbox!
Thank you for signing up to The Pick. You will receive a verification email shortly.
There was a problem. Please refresh the page and try again.
In the cut and thrust of competitive elite cycling, in order to optimise their potential and vie for a podium place come race day, riders must adhere to a time- and life-consuming training schedule.
Of course, many top-level cyclists jump into the sport with both feet and manage to pay the bills through their pedalling — the best clinch pro contracts and are able to ride and train full-time with a team.
But what about those who, despite competing and indeed winning at the highest tier, are employed in a conventional day job just like you and me? Cycling Weekly took a peek into their super-busy lives…
The flying postman
Richard Bussell, Elite time triallist and postman
Age: 27
Hometown: Stourbridge, Worcestershire
Top achievements: Relatively new to the competitive scene, Bussell secured major honours at the first time of asking in last year's National 10. He successfully defended his title in 2016 and also rode to second place in this year's National 25.
By day — well, from around 6am to 1pm — Richard Bussell delivers letters. A postal employee, Bussell rises with the birds and busies himself with breakfast — usually a bowl of porridge and a cup or two of coffee — before cycling the 10 miles from his home in Stourbridge to the sorting office in Kidderminster, Worcestershire.
>>> Are you addicted to cycling?
Upon arrival, after donning his work attire and stowing his cycling kit in a locker, he'll prep his route, or 'walk', and spend the subsequent three or four hours padding the pavements and pathways of the Black Country, earning an honest and wholesome crust.
By night, however, and sometimes of a lunchtime too, it is not unusual to find the postal worker aboard his Cervélo P2 pedalling at speeds beyond the reach of mere mortals — well, faster than anyone who isn't capable of topping the national time trial podium.
Bussell, as well as holding down full-time employment, possesses the strength in both mind and body to ride toe-to-toe, cleat-to-cleat, with the best cyclists on the elite circuit — many of whom are full-time professionals.
>>> How to prepare for an overseas cycling event
So how is he able to combine the two? How can someone ride to the pinnacle of domestic time trialling without dedicating a work-free training schedule to the cause?
"I try to concentrate on the big events. I do the occasional local race but it gets a bit stressful racing every weekend," the current National 10 champion reveals of his work/race balancing act.
Although the big events he refers to are reasonably sporadic and by no means litter the calendar, Bussell trains for between 10 and 20 hours a week, time that he obviously has to shoehorn around his duties as a postman.
"Usually in the summer I go for rides after work, but come winter I find it really hard to go out after work, so I tend to wake up extremely early and go out in the dark," he says.
"I do have a training partner, so it helps having someone else to go out with. I find that if I do my training in the morning before work, I don't have to think about it and I can go home and just relax."
>>> What to pack for every sportive (video)
Pre-work training usually means taking in a 55-mile loop of lumpy West Midlands terrain, and often leaves the RST Sport/Aero Coach rider fatigued before he heads out on foot with a heavy postbag — this is the toughest aspect of combining work and racing, Bussell says.
"Recovery is the hardest part. I don't mind so much the cycling to work and back, that's just spinning the legs. It's the walking up and down hills with heavy bags that doesn't give you any chance to recover. No matter how easy you take it, you are tired at the end of the day."
It's safe to conclude that although Bussell's job as a postal worker allows him a fair measure of free time, the nature of the work itself — which for the most part demands physical exertion — makes his achievements, often beating full-time athletes, all the more impressive.
Top tips
For combining full-time work with full-effort training:
Reduce training volume by targeting shorter events, such as time trialling or
cyclocross
Be prepared to rise early to put in the hours
Wattbikes and turbo-trainers are useful for a quick workout
If you have a physically demanding job, look closely at a recovery strategy
Consider using your commute as a means of training
Train smart, maximise the benefit of every session and avoid junk miles
The engineer with a cyclo-cross engine
Paul Oldham, Three Peaks winner 2015 and engineer at Hope Technology
Age: 38
Hometown: Colne, Lancashire
Top achievements: Current Three Peaks champion, Oldham has also medalled at the British National Cyclocross Championships, including a gold in 2011.
Take the unrelenting ascent of a Grand Tour queen stage, add to it the frantic argy bargy of a Flandrian Classic, and then cover the whole lot in grass and mud — et voilà, you have the Three Peaks race, widely billed as the toughest cyclocross race in the world.
>>> Is cycling the toughest sport?
The annual event traverses three of Yorkshire's craggiest and weather-whipped ridges: Ingleborough, Whernside and Pen-y-ghent, covering 61km and demanding the highest levels of athleticism for riders looking to contest the top spots.
Surely such an event would require a chock-full training schedule? But 2015 Three Peaks winner and all-round cyclocross aficionado Paul Oldham manages — evidently very successfully — to prepare for his races in the shadow of a full-time position as researcher and designer at Hope Technology.
"I train for between six and 12 hours a week, and through the cross season [autumn and winter] I race pretty much every week. Through the summer [when Oldham races mountain bikes] I race pretty much every other week, but I do have downtime from January through to March," says the 38-year-old of his bustling annual itinerary.
>>> Lose weight through cycling: Lighter and faster in four weeks
Even though the Three Peaks is considerably longer than most 'cross events, this work rate is significantly more manageable than that endured in his old life as a road cyclist.
"It [working full-time] is half the reason I gave up racing on the road. Training for a 100-mile road race when you're working full-time isn't easy, but training for an hour's cross race is a different kettle of fish. It's easier to be competitive on a limited time-frame for a National Trophy cyclocross race than a Premier Calendar road race."
Happily, Oldham finds himself in the advantageous position of working for his equipment sponsor, Hope Technology, so punching out a little early every now and then is unlikely to see him issued with a written warning.
"I'm quite lucky because I work for my sponsors, and they let me have flexi-time so I can basically fit the training in without it encroaching too much on family life," he says.
>>> Essential guide to superfoods
"I can start early in the morning and finish early in the afternoon. Before I had this option, it was a lot harder to train."
A family man, Oldham also strives to harmonise saddle success with a happy home life.
"On a weekend, I'm out at the crack of dawn, and I'll be done and dusted before [most people have] done anything — the main problem with that is you end up riding on your own a lot," he says.
Working for his sponsor, coupled with tackling short and sharp National Trophy events allows Oldham to fully focus on his training without it too severely affecting his employment or home life.
Get your pacing right
From lectures to local 10s
Edmund Bradbury, NFTO rider and former university student
Age: 23
Hometown: Richmond, Greater London
Top achievements: A prolific time triallist, Bradbury placed second to Alex Dowsett in the TT at the 2015 British Cycling National Road Champs. Since graduating he has signed for NFTO and scooped the spoils at this spring's Chorley Grand Prix.
Attending an educational institute that has produced a healthy harvest of Blighty's finest minds, Cambridge University students are under immense pressure to flourish during their studies.
>>> Expert opinion: What about an athlete's right to privacy?
Bowed heads and furious scribblings in lecture halls tend to precede evenings dedicated to the devouring of mind-mashing reading materials, and more frantic scribblings.
It can only be applauded, then, that Edmund Bradbury, currently riding with NFTO, stuck to an intense training programme while studying full-time for a neuroscience and management degree.
Similarly to Oldham, who decided to concentrate on off-road events so as to minimise training time, Bradbury focused on time trials during his four-year stint at Cambridge University.
"At the time [while at university], time trialling was a lot easier as a discipline to focus on [than longer road races]. I actually came to cycling from rowing, which naturally led a little bit into the time trialling," says the 23-year-old based in Richmond, who completed his studies last year.
>>> Here's how to stop cycling leading to unhealthy bones
Despite aiming at races against the clock, Bradbury still budgeted for a large amount of weekly saddle time.
"I was probably putting in between 15 to 18 hours a week. Most of it was focused on the weekends — so I'd do five or six hours a day on the weekends. And in the week it was all about very intense sub-maximal turbo sessions."
The intensity of Bradbury's degree schedule is evident in how he essentially rode around it, with long weekend training rides and short, sharp midweek bursts.
He also found that the university year melded nicely with the cycling season: "At the beginning of the racing season when you traditionally put in more endurance, you're just studying and not having any exams. And towards the end when you're getting into race season, that's when you've got your exams, which works well."
In summary, Bradbury showed canny management of his training load around study demands, using weekends to put in the all-important base miles and jumping on the Wattbike to crank out the midweek hurt locker sessions. And now the immense hard work has paid off with a pro contract.
Make every ride count
Striking the balance in the lower ranks
Luke de Quay
Works: DK Glovesheets — family-run bedsheet maker
Cycling discipline: fourth-cat road racer, also trains for hill-climbs and time trials.
The stresses of helping run a family business while simultaneously sustaining a level of cycling fitness to compete at fourth-cat events is something that led Luke de Quay to literature.
>>> How to get into road cycling for less than £500
In the quest to get the most from his training de Quay, who rides for East Grinstead CC and works with his father at DK Glovesheets, sat down with some required reading at the beginning of the year; The Time-Crunched Cyclist took him through a high-intensity programme.
"I based my training on the book — I did two longish rides over the weekend [of about two hours each] and then I'd try to get out on Tuesday and Thursday evenings, which gives you a nice space between [high intensity] rides," he says.
>>> The best cheap bikes: ridden and rated
During the darker months, like most cyclists, de Quay is an advocate of the rollers: "I've got a set of resistance rollers set up in front of the TV, and a computer program called 'Golden Cheater' that I link my heart rate to so I can do my intervals."
Quality takes precedence over quantity, with not one single junk mile featuring in de Quay's busy day-to-day schedule.
Thank you for reading 20 articles this month* Join now for unlimited access
Enjoy your first month for just £1 / $1 / €1
*Read 5 free articles per month without a subscription
Join now for unlimited access
Try first month for just £1 / $1 / €1
Get The Leadout Newsletter
The latest race content, interviews, features, reviews and expert buying guides, direct to your inbox!
Founded in 1891, Cycling Weekly and its team of expert journalists brings cyclists in-depth reviews, extensive coverage of both professional and domestic racing, as well as fitness advice and 'brew a cuppa and put your feet up' features. Cycling Weekly serves its audience across a range of platforms, from good old-fashioned print to online journalism, and video.