It's Gravel Week 2023 on Cycling Weekly
A week-long spotlight on all things gravel: tech, events, gravel stars, racing and bikepacking.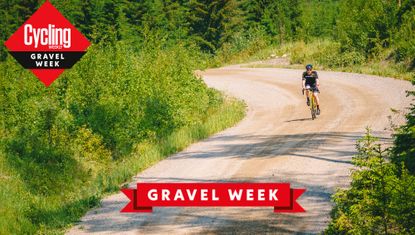 (Image credit: Getty Images)
On the heels of another 'epic' Unbound Gravel race weekend, Cycling Weekly is going to keep the gravel content going with our second annual Gravel Week.
Gravel Week is a celebration of all things "gravel" from the latest gravel bikes, tires and gear to the events we're excited about to the tips and tricks on how to get started yourself.
Whether you're looking for your next gravel race, planning go bikepacking this summer or you're in the market for a utilitarian, do-it-all bike, stay tuned for a week's worth of content around the off-road, wide-tired bike trend that's here to stay.
We'll be publishing a number of articles about gravel riding this week - not least we'll be revealing our 2023 Gravel Bike of the Year award winners.
Gravel, Roubaix, Groad, Adventuring…what's the fuss all about?
At the heart, gravel is about adventure and exploration. It's our modern day bike touring or the millennial generation's call of the wild.
It's less about getting from point A and B as quickly as possible —though in racing or setting FKTs it certainly is—, and more about the journey in itself. It's about building a different relationship with the bike and seeing where it and your own two legs can take you. It's about the freedom to roam, being away from cars, going into nature and relying on your own abilities.
In racing there's always the element of who crosses the finish line first, but at the time there is also a certain unity if having conquered the same course at the same time. In that way, everyone wins and everyone is celebrated.
But don't let me tell you what gravel is. Part of the beauty lies in the fact that it's so many things. It's for you to define and for you to make it your own.
What content you'll be seeing this week
We'll be adding lots of new gravel content this week but we also think this is the perfect opportunity to reacquaint you with some of the brilliant gravelly content we've already got all over Cycling Weekly!
Gravel Bike of the Year
We've put nine of the best off-road, drop-barred bikes - from brands including Giant, BMC, Specialized and Canyon, through their paces to find Cycling Weekly's 2023 Gravel Bike of the Year.
Gravel Week Buying Advice
We've tested dozens of gravel bikes, tyres, shoes, shorts and lots, lots more. We'll be adding new guides and reviews as the week progresses
If you really want to make the most of your off-road riding then you'll need to be onboard one of the best gravel bikes on the market. Check out our essential guide
If you want to start gravel riding you really need to a get grip. So our guide to the best gravel tyres is an absolute must read!
The best gravel bike shoes have to do several jobs - like road shoes you want them to direct as much power through your pedals as possible. At the same time you'lll likely to be spending a lot of time in them - including walking time - so you want comfort. And possible water-proofing.
Unbound Gravel 2023
Unbound Gravel is the world's biggest gravel place, and took place over the first weekend in June in Emporia, Kansas. We were there so ICYMI here's what we found.
More great gravel guidance
You'll find all of our Gravel Week articles here, keep checking back, as more will be added daily!
Thank you for reading 20 articles this month* Join now for unlimited access
Enjoy your first month for just £1 / $1 / €1
*Read 5 free articles per month without a subscription
Join now for unlimited access
Try first month for just £1 / $1 / €1