1,851km Zwift session rider says he lost 5% of his body weight and damaged his organs
Dr Alex Stavrinides tells the (frankly harrowing) story of his 1,851km Zwift ride in which he 'buried myself deeper than I thought I would or could'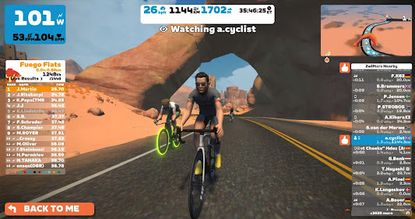 (Image credit: Alex Stavrinides)
Turning 40 for most of us might mean a weekend city break, throwing a party or hiring a hot tub. Not for ultra-cyclist Dr Alex Stavrinides – he rode 1,851km on Zwift, in a single ride.
The Audax aficionado has since told the full story of that experience on his Test Subject 1 blog, describing how he lost 5% of his body mass and sustained mild organ damage.
He did not however, beat the current Zwift distance record understood to be set at 3,544km set by Chris Hopkinson in 2018.
Alex Stavrinides's ride took him 60hrs 48min 49sec (two-and-a-half full days) and burned through 25,000 kcals. He also amassed 2,768m of climbing, despite using the pancake-like Tempus Fugit course in Zwift's Watopia world.
By the end, he writes, "RPE [rate of perceived exertion] was in the factors of 10s", and he had managed just five hours of sleep across the whole attempt. "I had buried myself deeper than I thought I would or could," he says.
It all started, as so many of these things do, when Stavrinides was looking around for a new goal.
"I was turning 40, I had ridden various endurance events and enjoy the process," he wrote, adding, "I felt a little bit empty in targets and ideas as stepping stones to LEL [the London-Edinburgh-London Audax event] compared to some of the other events I had done."
Nottingham, England-based Stavrinides was one of the many riders to have bought an indoor trainer during covid, and had already done a 1,000km ride on Zwift in 2021, and so the idea of attempting a 2,000km Zwift ride came to him. Stavrinides kept it broadly to himself, only letting it slip in a few cryptic messages about a P2kWRA (Project 2K World Record Attempt) online, which weren't pursued by other users.
He began the attempt on a Thursday morning, riding a virtual Pinarello Dogma F with Zipp 808 wheels in the front room of his house – and simply kept riding. With a handwritten 'Idiot on a bike – world record attempt' sign up in the window and his family out at work or school he blasted the Prodigy and Rage Against The Machine to keep him going, initially, at around 200w.
Throughout the attempt he took what he calls "strategic naps" and was joined by friends and co-workers, either riding virtually with him or chatting online, helping things pass smoothly.
By Saturday Stavrinides had developed some digestive issues, he writes, but it wasn't until Sunday, the final day of the attempt that things started to go properly awry, with swelling and muscle loss becoming more and more obvious.
"Riding up to 1,800km, I was clearly being very damaged, so going on to 2,000km was looking unrealistic," he says. "With the window by my side I could see my physical profile had been destroyed. My thighs had lost a lot of mass and [were] far narrower than at the beginning. Cupping my buttock, I could feel a huge amount of it had gone – it was no wonder why my saddle comfort had changed."
He adds that he had "cyclists wrist and mild cardiac arrhythmia" by the end of the ride.
He eventually pulled up at 1,851km on Sunday evening, a somewhat broken man.
It's probably safe to say, don't try this at home, kids.
You can read more detail including all Stavrinides on his Test Subject 1 blog.
Thank you for reading 20 articles this month* Join now for unlimited access
Enjoy your first month for just £1 / $1 / €1
*Read 5 free articles per month without a subscription
Join now for unlimited access
Try first month for just £1 / $1 / €1