A $2,250 fine for wearing the wrong socks? UCI toughens sanctions for 2024
Offences for non-compliant clothing and unauthorised feeding set to carry harsher fines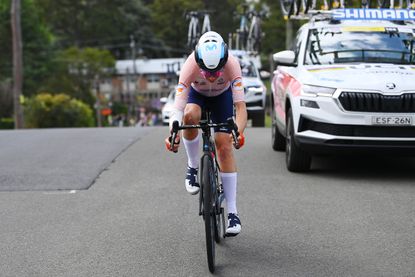 (Image credit: Getty Images)
The UCI has implemented a raft of sanctions updates for the 2024 road season, increasing the amount fined for a slew of offences.
The new sanctions, which were quietly amended last Friday, will come into effect on 1 January 2024, and include harsher penalties for clothing and feeding infringements.
One of the most significant updates comes in the use of non-compliant clothing, which will now be punishable by fines of up to CHF 2000 ($2,250, £1,800).
This offence is understood to include unregistered team kit, aero-modified fabrics and the infamous sock height rule, which stipulates that socks or overshoes cannot come more than halfway up a rider's shin.
In a high-profile sock infringement at last year's UCI World Championships, Annemiek van Vleuten was fined CHF 200 ($225, £180) for wearing long socks on her way to victory in the road race.
The UCI's updated rule will also see teams fined between CHF 250 ($280, £225) and CHF 500 (£450) for each rider using non-compliant clothing.
Elsewhere, the governing body has doubled the sanction for 'failure to wear the race leader's jersey or skinsuit', increasing it from CHF 500 ($560, £450) to CHF 1000 ($1,120, £900).
Fines surrounding unauthorised feeding have also toughened. Previously, a rider who took on food or water in the last 20km of a WorldTour stage race, such as the Tour de France, would have faced a CHF 200 ($225, £180) fine and a 20-second penalty.
Starting next season, this will be increased to CHF 500 ($560, £450), with the same time penalty and also a 20% penalty in the points and/or mountains classification. This infringement happens regularly at major races, with Julian Alaphilippe losing his yellow jersey lead on stage five of the 2020 Tour for taking on a bottle with 17km to go.
The UCI has also introduced a new fine for 'absence of a rider at the start after riders confirmation without valid justification', which carries penalties of CHF 500 ($560, £450) to CHF 1000 (£900).
Also included in the governing body's sanctions update are a number of new UCI point deductions.
For example, riders who wear non-compliant clothing during podium obligations at major races - as EF Pro Cycling did at the 2020 Giro d'Italia - will now lose 15 UCI points each.
The same punishment will be dealt to riders who push off vehicles or slipstream behind them, as Demi Vollering was deemed to have done at the Tour de France Femmes avec Zwift earlier this year.
One of the most severe sanctions on the list is for 'passing through a level crossing that is closed or in the process of closing'. Previously, riders who did this faced a CHF 1,000 ($1,120, £900) fine and were docked 50 UCI points. From 2024, the latter has been increased to 100 UCI points, the equivalent of a ninth place finish at the Amstel Gold Race.
The full list of UCI sanctions updates is available on the governing body's website.
Thank you for reading 20 articles this month* Join now for unlimited access
Enjoy your first month for just £1 / $1 / €1
*Read 5 free articles per month without a subscription
Join now for unlimited access
Try first month for just £1 / $1 / €1