Bradley Wiggins under pressure as 'injections' controversy deepens
Hacked data released last week appears to contradict Wiggins's comments in his autobiography that he had 'never had any injections'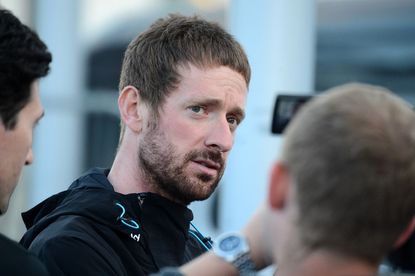 Get The Leadout Newsletter
The latest race content, interviews, features, reviews and expert buying guides, direct to your inbox!
Thank you for signing up to The Pick. You will receive a verification email shortly.
There was a problem. Please refresh the page and try again.
Bradley Wiggins is at the centre of a controversy connected with Team Sky's 'no needles' policy after information emerged that he had received injections of allergy medication on three occasions in his career.
In his autobiography, published in November 2012, Wiggins said he had never received injections.
According to medical records released by Russian hackers on Thursday, Wiggins received six Therapeutic Use Exemptions (TUEs) between June 2008 and April 2013, which allowed him to take banned substances for medical reasons.
The treatments, which were approved by the UCI, allowed him to take salbutamol via an inhaler on three occasions to treat asthma; one another three occasions (before the 2011 and 2012 Tours de France, and the 2013 Giro d'Italia) he was given intramuscular injections of an allergy medicine called triamcinolone acetonide to treat a reaction to pollen.
It is these latter interventions in the spotlight – not because Wiggins did not have permission to receive the injections, but because of Team Sky's high-profile 'no needles' policy, and the Tour de France winner's own comments on the subject.
In his autobiography, Bradley Wiggins: My Time, Wiggins wrote that: "British Cycling have always had a no-needle policy, it's been a mainstay of theirs; so it was something I grew up with as a bike rider. In British cycling culture, at the word 'needle' or the sight of one, you go, 'Oh shit', it's a complete taboo...I've never had an injection, apart from I've had my vaccinations, and on occasion I've been put on a drip, when I've come down with diarrhoea or something or have been severely dehydrated."
Triamcinolone, which is said to improve recovery, increase stamina and aid weight loss, was the substance for which Lance Armstrong tested positive at the 1999 Tour de France.
In a statement, a spokesman for Wiggins said: "Brad stands by his comment concerning the use of illegal intravenous needle injections.
The spokesman said that Wiggins's comments in his book referred to the "historic and illegal practice of intravenous injections of performance-enhancing substances, which was the subject of a law change by [cycling's governing body] the UCI in 2011".
"The triamcinolone injection that is referred to in the Wada leaks is an intramuscular treatment for asthma and is fully approved by the sport's governing bodies."
Wiggins was also forced to distance himself – and his TUEs – from controversial Belgian doctor Geert Leinders, who worked at Team Sky in 2011 and 2012. Leinders's association with the team ended when his name appeared in the US Anti Doping Agency's investigation into Armstrong.
Leinders was subsequently banned for life for multiple doping violations carried out when he worked for the Rabobank team between 1996 and 2009.
Michael Rasmussen, a former rider at Rabobank, has said that Leinders would provide false medical certificates so that the team's riders could receive TUEs allowing them to take banned substances. These included triamcinolone, which was taken prior to Grand Tours for its performance-enhancing effects.
Wiggins's spokesman said: "Brad has no direct link to Geert Leinders. Leinders was 'on race' doctor for Team Sky for a short period and so was occasionally present at races dealing with injuries sustained whilst racing such as colds, bruises etc.
"Leinders had no part in Brad's TUE application; Brad's medical assessments from 2011-2015 were processed by the official Team Sky doctor, and were verified by independent specialists to follow WADA, UCI and BC guidelines."
Thank you for reading 20 articles this month* Join now for unlimited access
Enjoy your first month for just £1 / $1 / €1
*Read 5 free articles per month without a subscription
Join now for unlimited access
Try first month for just £1 / $1 / €1
Get The Leadout Newsletter
The latest race content, interviews, features, reviews and expert buying guides, direct to your inbox!