British Cycling women's academy in the pipeline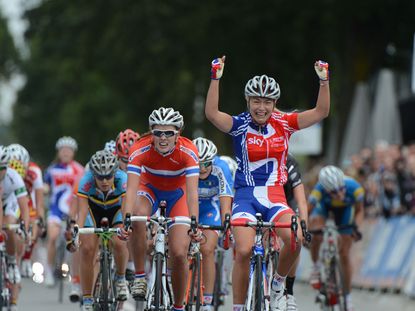 Cycling Weekly understands that a British Cycling-backed women's 'academy', encompassing junior stars turning senior and members of the Olympic track squad, is in the pipeline for 2013.
BC president Brian Cookson accepted the absolute need for such an outfit. "The timeframe has changed, I think the public perception has also changed and we can't not do this any longer," he said.
"We have to have some manifestation of a British-based professional road team for women that is, if not the equivalent of Team Sky, a clear and sustainable step towards that. The difficulty is, what's the return on that, in terms of what is quite a weak pro-elite women's calendar?"
It is believed that Olympic gold medal-winning track pursuit riders Joanna Rowsell, Dani King and Laura Trott may have a part in the set-up.
But why was there no women's Team Sky in the original plan, or even a year ago? "I think the first priority was to establish the men's team," Cookson said. "That took up a massive amount of time and effort and, even then, there was a considerable concern that it might impact the delivery of Olympic medals for the track team and all the rest of it. The answer was that it was considered to be a challenge too far in that timeframe."
While staying part of the general BC set-up, junior world champ Lucy Garner will not play a full-time role. She told CW that she has signed for a top-level European team and will be based abroad in 2013.
"I was prepared [for the contract requests]. It was one of the teams I was really interested in," Garner said of her new squad. Though unable to reveal the team's identity, Garner hinted that she did not think she would have any fellow British team-mates.
Dutch team Argos-Shimano confirmed last week that it had signed Garner. The squad is home to one-day stars Kirsten Wild and Charlotte Becker.
The original version of this article appeared in the October 11 2012 issue of Cycling Weekly magazine
Related links
UCI masterplan to save women's racing
Garner signed up by Argos-Shimano for 2013
Thank you for reading 20 articles this month* Join now for unlimited access
Enjoy your first month for just £1 / $1 / €1
*Read 5 free articles per month without a subscription
Join now for unlimited access
Try first month for just £1 / $1 / €1