Contador doping case: WADA ready to appeal, Landis critical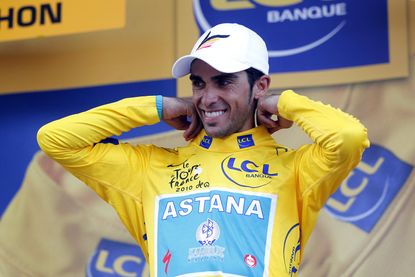 The World Anti-Doping Agency (WADA) is ready to appeal against any eventual acquittal of Tour de France winner Alberto Contador for doping. The Spanish Cycling Federation (RFEC) disciplinary committee will rule on Contador's positive test for Clenbuterol in the next two months.
WADA's director general, David Howman, told the New York Times that his agency lets national federations manage their sports, but may use its power to appeal to the Court of Arbitration for Sport (CAS).
"There are perceived and potential conflicts, but I think the only thing we can say is that we have the right to appeal," said Howman.
"They want to show us that they're doing a good job, but they also really don't want to have a controversy or embarrass their own sport, so there is a tension there all the time."
The RFEC declined in 2007 to open a disciplinary hearing against Spaniard Alexandre Valverde in relation to Operación Puerto. However, WADA and UCI appealed to the CAS in May and saw to Valverde's two-year ban.
Valverde's case and recent comments by RFEC's president have raised doubts about an unbiased trial.
RFEC President Juan Carlos Castaño said that he hoped Contador is cleared "not only for the benefit of the cyclist, but it would be good for cycling. For a lot of reasons, because I have known him since he was a boy, because he was licensed in the Madrid federation for many years and he passed through all the categories, and I cannot have anything but empathy for him."
Contador has not raced since he won the Tour de France in July by 39 seconds over Luxembourg's Andy Schleck. On the race's second rest day, July 21 in Pau, he tested positive for Clenbuterol in an anti-doping control. After reviewing the case, the UCI requested the RFEC to open a disciplinary hearing.
Contador maintains his innocence and says that the Clenbuterol came from a contaminated steak he ate. The European Union, however, has banned its use in animals since 1996. It regularly checks farms to ensure they follow the rules.
WADA names Clenbuterol on list of banned drugs and its presence, in any amount, is considered a doping positive. Contador's urine sample revealed 50 picograms or 0.000 000 000 05 grams per millilitre.
Floyd Landis lost his Tour de France title from 2006 after tests revealed a positive for testosterone during the race. Today, he criticised Contador's defence and the UCI's president, Pat McQuaid.
"I know that riders take Clenbuterol. The risk of being caught is higher now than before, but this risk is still relatively small because this substance usually disappears by the time of the [anti-doping] test," Landis told French newspaper, L'Equipe.
"In the peloton, everyone knows that Pat McQuaid, [former UCI President] Hein Verbruggen and other leaders of the UCI have protected some riders and not others during the past 20 years. It was their way of manipulating and creating stars."
Landis's allegations in April began a doping investigation in the USA into seven-time Tour de France winner Lance Armstrong. He also alleged that that UCI took a bribe from Armstrong.
Contador faces a likely two-year ban from competition and the loss of his Tour de France title. In the case of a guilty verdict, he may appeal to CAS.
He raced his third and final season this year with team Astana. Before the UCI notified Contador of his positive, he agreed on August 3 to join team Saxo Bank for the next two years. His contract is worth an estimated €9 million, or €4.5 million a year.
Related links
Contador slams Astana for lack of support during clenbuterol case
WADA dismisses Contador's clenbuterol claims
Contador welcomes disciplinary hearing into clenbuterol case
Contador strengthens defence team in clenbuterol case
What next for Contador?
Spain's sports minister urges patience in Contador case
Saxo Bank to continue team sponsorship with or without Contador
Riis has a plan B is Contador is banned
How does clenbuterol testing work
Contador considers quitting cycling due to doping scandal
Tension rises over Contador's clenbuterol case
Contador case splits experts' opinions
Alberto Contador: The clenbuterol, the beef excuse and traces of plastic
Spanish authorities investigate source of Contador's mystery meat
McQuaid quiet on Contador case but says Spain can do more
Did Contador have a transfusion during the Tour?
Contador points finger at imported meat for clenbuterol positive
Contador tests positive for clenbuterol says governing body
Thank you for reading 20 articles this month* Join now for unlimited access
Enjoy your first month for just £1 / $1 / €1
*Read 5 free articles per month without a subscription
Join now for unlimited access
Try first month for just £1 / $1 / €1