Everything's changing: The hip new face of British cycling clubs
While the traditional clubs and shops continue to be a backbone of the sport a new generation is enjoying cycling in a whole different way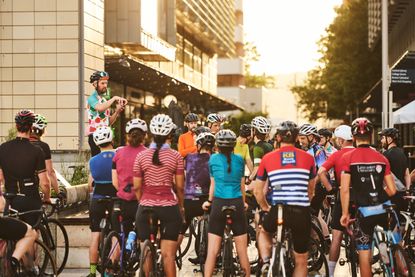 (Image credit: Phillip Barker/Colourtrendz Photography)
While we love the UK cycling scene it can sometimes feel a little staid, a little too tradition-bound. Cycling Weekly has been going for over 130 years, and there are clubs and shops with similarly long heritages around the country. They are the foundation of what makes much of the sport great, but coming into the sport the weight of that tradition can feel like a barrier to entry. It's understandable some crave something different, something fresh, to take cycling in a different direction, and involve new people.
Bristol is like many other provincial English cities with a strong cycling history, the home to institutions that have been there for decades - Bristol South CC, its largest club, has been around since 1893 - but it has a perfect case study for how people are trying to mix up the world of cycling.
David McMillan, a local illustrator, was inspired to start up a new cycling club, Newtown Park CC with James Diggle and Michael McKelvaney, after they all found the choice of groups in the city lacking. Unlike a 'traditional' club, NPCC is not affiliated with British Cycling, does not have a membership fee, and is instead associated with Newtown Park, a Bristol-based brewery.
"My partner had been going to the Left Handed Giant [another Bristol brewery] running club, and people there had been talking about a cycling club there, it seemed like a natural progression," he explains to Cycling Weekly. "I had been finishing my rides at Newton Park for a while, and we realised we should totally start a cycling club through that. So last year we made it official, but it had been something that we'd been talking about for a long time.
"I think there was definitely a space for us. We wanted to join cycling clubs, but we didn't feel like there was something for our ability, and others felt quite exclusionary. We wanted to bring in regular social rides, so that you didn't have to be some kind of massive bike nerd to go to.
"It felt like there were all these established bike clubs but we didn't fit into them, we just wanted to be people goofing around on bikes, and building our competence and our ability up over time. It was more trying to create space for that. A club that felt more open, more welcoming, and one where intermediate meant intermediate."
Instead of being focussed on the performance side of cycling, NPCC seeks to create a social atmosphere with its rides, which all end at the brewery or a pub, in an effort to mix people off the bike, as well as on it.
"We wanted somewhere that was really inclusive, and just a friendly, light hearted way of going out and exercising, which we felt there wasn't anything for in Bristol," McMillan says. "In other clubs people might not stick around afterwards, it was more about the cycling, but we wanted it to be a way to meet people and hanging out.
"Everything about us is like the antithesis of a serious established club, one that's more decentralised. Everything is open to everyone, and we want to get as many people together as we can."
Meanwhile, also in Bristol, Sam José founded the Bristol Cycling Movement to get unrepresented people into cycling in the city.
"Cycling definitely has a diversity problem," he explains "I see black kids and people of colour cycling, but I don't think they see it as something they can have fun with, like free range play.
"The only next step for people is racing. Like my daughter went to the track cycling, and she was told to go for an hour and a half and do what the coaches said, and she hated it. I think for young kids in the community, they just want to experiment, they want to have fun.
"That's what we want to provide, we want to say come meet us in the park, just do it. We're just here to see you doing your thing, and to help support you if you need it. Come ride with us if you want, but let's just see how we go. They don't want a structure. I think that's where the gap is."
From Bristol to Brighton
McMillan and José are not alone in having these ideas. 150 miles away in another hipsterish city beginning with the letter B, Harry Gilliam had a similar idea in Brighton of a bike club that offered something new.
"Neighbourhood, or NBHD as we like to be known, was born out of a gap in the Brighton market for a cycling club that reflected not just Brighton as the young, energetic, open, and creative city that it is, but also the modern generation," Gilliam says. "I moved to Brighton a few years ago and got into cycling more and more, but for all its fantastic cycling routes both on and off the road, it has a real lack of choice in terms of cycling clubs.
"Brighton Mitre, a legendary and giant of a club is the only real option, unless you want more performance focused clubs which by default are not very inclusive, but then of course they are not designed to be. I wanted to ride with progressively minded, inclusive, young adults, and I wanted an awesome kit, and such a club didn't exist, so I decided to start my own."
Just like Newtown Park, there are very few rules; the fewer barriers to entry, the better.
"I think what makes us special and reflects our Brighton roots is that; we don't ask for subs, we are a free-to-ride-with club, we have no rules other than a bike that works and clipless pedals," Gilliam said. "Most of all, we are completely open to change, if there are people who would like to see us do something to get groups who are not well represented in cycling involved we will always listen. We have found that this open attitude has attracted riders who feel the same and that makes us being so fluid so easy."
Both NPCC and NBHD have strong identities, but are open to being melded; both have recently started gravel off-shoots, and their futures are not determined by AGMs of years past, or bound to BC decree.
Co-operative vision
In his guise as an illustrator, not as a cycling club founder, McMillan painted a mural on the side of one of Bristol's other interesting cycling initiatives, the Bristol Bike Project. Founded in 2008, the organisation tries to help people from all backgrounds onto two wheels.
It's part shop, part maintenance centre, all community project, with a large charitable side; it does not seek to replace the traditional bike shop, but instead offer something different.
"It started as just two people, working out of one of the co-founder's back gardens, then we moved to a permanent home," Adam Dolling, BBP's volunteer coordinator tells Cycling Weekly. "This allowed us to grow into a more sustainable self-funding project. We started building bikes for Bristol-based refugees and asylum seekers, and that sort of evolved into the Earn A Bike programme. That's what the projects have grown around. From there we developed a trading arm. So now we have the shop, the maintenance courses, and any of the paid-for DIY courses we run, which all generate income for the project, pay our staff, and all the other running costs.
"We're not-for-profit, a Community Interest Company [CIC], so all the money we make gets invested back into the project. We have no manager or owner, the bike project itself owns the space, and we have regular members meetings and an AGM, so anyone who is involved can come along and decide the direction of the project."
Co-operatives in cycling are nothing new, with a bike shop providing the perfect platform for small-scale mutual ownership, which Dolling acknowledges: "We're totally not original, there are loads of bike co-ops around the country and around the world."
However, the amount of benevolent work that this new wave of bike co-ops do is unique; rather than popping down to Halfords or Evans, why not get good service and support a good cause at the same time?
"The bike project is important because there's a huge amount of waste in the cycling industry and around the world," Dolling says. "So as well as our social goals we want to recycle unwanted bikes. We get donations from people just clearing up their sheds, or sometimes from organisations cleaning up their bike racks."
He is keen to stress that he feels the BBP does not encroach on anyone's turf: "I think we fit fairly well into the cycling scene here. A lot of bike recycling projects sell bikes at low cost, which can be a problem as it undercuts other independent bike shops that sell second hand bikes as well. We sell bikes at market value, which helps us fund the community work too. We don't step on other people's toes, and none of the other bike shops are our competition."
Bikes equal freedom
In Leeds, a similar CIC bike project is The Bikes College in Leeds, south west of the city centre, which has been operating since 2016, founded by David Matyjas.
"I was doing work on local community bike stuff and I realised that there was something missing in Leeds, a thing where people can come in and get the cheap, affordable second hand bikes, but they are fully repaired," Matyjas says.
"We collect unwanted bicycles, divert them from being wasted, and we refurbish them beyond high street standards. We also dismantle bikes for our library of bike parts. We don't advertise, but if you support us in one way or another you always get a discount.
"We also look after local riders, we sponsor people, and we give a lot of money to projects. We probably give thousands of pounds away every year.
"We are a CIC so the element of profit is removed. I don't believe that putting money in my pocket benefits anyone else. Through this we've actually got a way to do good work for the community."
For these people, cycling is more than a business, it's a way to help people ride off into the future.
"Cycling gives people the freedom to get where they need to go," Dolling explains. "There's very little cost involved, and it's something that can bring joy. People, especially a lot of those that we work with like refugees, are people that rely on their bike for all of their transport, as they can't afford to get on the bus or anything."
Five other alternative cycling clubs to try
Brixton CC
This south London-based group is open to all riders across the city. Their club ethos is based on the principles of the cooperative movement, and do almost every type of cycling, from BMX to track. The club is predominantly social but has also tried out racing.
Outliers.cc
This low-key Edinburgh-based outfit does a hills-based ride every Tuesday evening round the Scottish city, which are reportedly brutal and involve cobbles as well as a climb of Arthur's Seat.
Centuries.cc
This group rides in and around Sussex, but its USP is that it is an inclusive cycling group for people affected, directly or indirectly, by mental health challenges. Every month a ride brings people together in a welcoming environment to "connect, share stories, laughs and the road on two wheels".
New Forest Off Road Club
The NFORC's Instagram bio is a thing of beauty: "Increasing representation in the outdoors through guided matriarchal experiences." It hosts off-road, group rides of varying speed and distance. A group of 10 ride leaders facilitate weekly, social group rides.
Peak Gravel Gang
This Peak District club is for "friendly folk who like to ride bikes", and mainly dabbles in gravel. Its Instagram says it mainly does party pace social rides, cake & coffee, and that the club is open to anyone, any bike, any experience.
Thank you for reading 20 articles this month* Join now for unlimited access
Enjoy your first month for just £1 / $1 / €1
*Read 5 free articles per month without a subscription
Join now for unlimited access
Try first month for just £1 / $1 / €1