IG-Sigma Sport unveil 2013 management team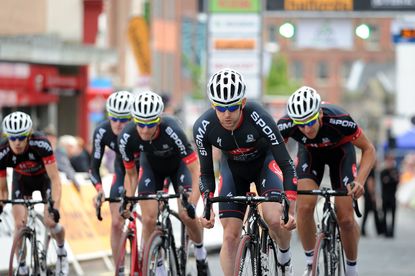 IG-Sigma Sport today announced that Simon Howes and Dan Lloyd will take charge of the UCI-ranked squad for 2013.
Howes previously rode for the team and enjoyed success across a number of disciplines during his career.
He will become the squad's sports director, with former Garmin rider Lloyd appointed as his assistant.
After one-year with the team, Lloyd has decided to retire and move into a management position. He will also continue his media commitments within the sport.
Ian Goodhew has also joined as team coach, while Becky Frewing remains in her role as general manager.
"I'm delighted to be onboard. I've been working on the recruitment of riders for the team in recent months and really looking forward to the new season and getting racing underway" said Howes.
The team's roster is expected to be announced shortly, with Tour of Britain sprints competition winner Pete Williams and Matt Cronshaw believed to be among the new faces joining.
Thank you for reading 20 articles this month* Join now for unlimited access
Enjoy your first month for just £1 / $1 / €1
*Read 5 free articles per month without a subscription
Join now for unlimited access
Try first month for just £1 / $1 / €1