Kaitlin Armstrong Trial, latest developments: DNA, internet searches and key testimonies move trial forward
Colin Strickland and friends testify; Armstrong's internet history revealed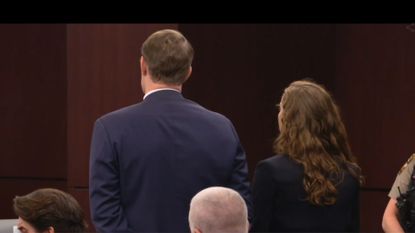 (Image credit: Screengrab from KXAN's livestream)
The trial of Kaitlin Armstrong in her alleged murder of elite cyclist Moriah "Mo" Wilson has reached its sixth day today.
Due to the gag order on the case, those involved in the case cannot speak about the trial and media are not allowed to film testimonies and evidence presentation, but are allowed to attend the trial in-person and report key findings.
Over the past few days, the prosecution has presented numerous pieces of evidence for the jury's consideration, including surveillance video from a doorbell camera that does not show Armstrong murdering Wilson, but does include audible gunshots at the time of the murder and Wilson's bike being found in a black garbage bag with Armstrong's DNA on it — the bike had been stashed in the bushes near the house in which Wilson was murdered.
In addition to this physical evidence, the prosecution presented a digital trail belonging to Armstrong, which included a deleted "note" from Armstrong's mobile phone containing an address on the same street as where Wilson was murdered. There was also evidence of Armstrong creating a new email address just days after Wilson's murder and multiple emails sent to that email address with a flight itinerary to Costa Rica, new Visa card information and an Uber receipt for a trip from Armstrong's home to Austin-Bergstrom International Airport.
Searches for "Kaitlin Armstrong" with news results pertaining to Wilson's murder were also found linked to this new Google email address account.
Perhaps one of the most critical testimonies this week was that of Colin Strickland, a Red Bull -sponsored cyclist and Armstrong's ex-boyfriend and former romantic partner of Wilson's.
Strickland is said to have been the last person to have seen Wilson alive, having spent part of the day with Wilson on the day she was murdered. But Strickland is not a suspect in the case.
In his testimony, Strickland shared that Armstrong had called and texted him multiple times while was with Wilson, and that he did not disclose to Armstrong that he had spent some of the day with Wilson.
Strickland also shared that he and Armstrong had recently purchased firearms and that Armstrong had taken it upon herself to learn how to use and fire the weapon accurately since purchasing. Strickland himself was unable to demonstrate how to properly lock and unlock a pistol when one was presented to him in court.
Lastly, Strickland said that Armstrong was acting "normal" in the evening after she allegedly murdered Wilson and he initially told the Austin Police Department (APD) that Armstrong was "not capable of hurting anybody."
When asked if he murdered Wilson, Strickland simply answered: "No."
Two of Armstrong's friends also took the stand on Wednesday and both said they were suspicious of her after learning about Wilson's murder.
According to both women on the stand, in early 2022 Armstrong was noticeably angry about Wilson on multiple occasions and had said both literally and "in so many words" that she would kill Wilson, also on multiple occasions.
The friends said that, at the time, they did not think Armstrong would actually harm Wilson.
Other people brought to the stand included a representative from Strava, Sergeant Timothy Price of APD and Kenneth Alan Burrows, a friend of Strickland's.
The case will continue this week with more evidence and testimonies.
Armstrong, 35, who has pleaded not guilty, faces up to 99 years in prison if found guilty of the murder of Moriah Wilson.
Thank you for reading 20 articles this month* Join now for unlimited access
Enjoy your first month for just £1 / $1 / €1
*Read 5 free articles per month without a subscription
Join now for unlimited access
Try first month for just £1 / $1 / €1