'Not one witness saw Kaitlin Armstrong allegedly commit this murder' - opening statements given in Kaitlin Armstrong trial
Armstrong's defense hinges on the lack of video surveillance footage showing the murder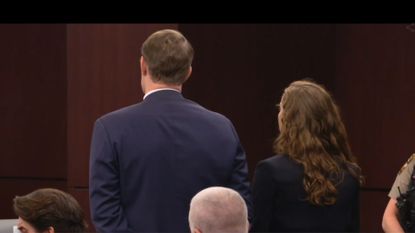 (Image credit: Screengrab from KXAN's livestream)
Opening statements in the trial of Kaitlin Armstrong, who allegedly murdered elite cyclist Moriah Wilson in 2022, were made in Austin, Texas, this morning.
While a gag order is in place prohibiting anyone involved in the case to speak about the trial, media cameras were allowed into the court room today to capture the opening statements, which were livestreamed.
The proceedings started with Armstrong again pleading not guilty to the murder of Wilson.
The state prosecutor, Rickey Jones, was then invited up to make his statement. In a criminal trial, the opening statements are an opportunity for each party to provide the basic facts of their case, and set a general road map of how the trial is expected to unfold.
In his hour-long statement, Jones told the jury about Wilson's athletic achievements and how she came to be in Texas on the night she was killed. He explained that over the next four to five days, the jurors will get to meet the three key players in this incident: Wilson, Armstrong and Colin Strickland.
It is speculated that Armstrong murdered Wilson out of jealousy over a potential romantic involved with Armstrong's boyfriend and business partner at the time, elite cyclist Colin Strickland. Jones said he and his team will be showing evidence of Armstrong's dislike of whatever relationship Strickland and Wilson had.
Jones said that Armstrong was able to track Wilson's whereabouts via a fitness app (but did not specify which app) in the days before Wilson's murder.
He shared that the jury will hear Wilson's final moments from the audio captured on surveillance footage.
"The last thing Mo did on this earth was scream in terror," Jones said. "Those screams are followed by 'pop, pop!'... You won't hear any more screams after that."
When it was his turn to speak, one of Armstrong's defense attorneys, Geoffrey Puryear, argued that it was this footage or rather the lack of video surveillance footage directly showing Wilson's murder occurring that absolves Armstrong of guilt.
"I want to talk to you about what you didn't hear about," said Puryear. "Not one witness saw Kaitlin Armstrong allegedly commit this murder. Because there isn't one."
Puryear went on to say that while the surveillance footage captures the sounds of gunshots, it does not show Armstrong committing the crime. He referred to Armstrong as "a woman trapped in a nightmare of circumstantial evidence" and reminded jurors that Armstrong must be found guilty "beyond a reasonable doubt."
In regards to the 43-day 'man hunt' that eventually located Armstrong in Costa Rica following Wilson's murder, Puryear referred to Armstrong as a woman who loves to travel and is passionate about her yoga practice. It was therefore not out of the ordinary for her to leave on a moment's notice to a foreign country.
The trial will continue with witness testimonies and cross-examination. Cameras will not be allowed in for these proceedings. Strickland is reported to testify, as is Wilson's friend with whom she was staying the week she was killed.
The defense attorney and prosecutor will then make their closing arguments before the jury leaves to deliberate. Cameras will be allowed back into the courtroom at that time.
The jury can take hours, days, or even weeks to reach its verdict. This verdict is read out loud to the court with all parties present. If found guilty, the judge will pass the sentence. If found not guilty, the judge will acquit the defendant.
Armstrong, 35, faces up to 99 years in prison if found guilty of the murder of Moriah Wilson.
Thank you for reading 20 articles this month* Join now for unlimited access
Enjoy your first month for just £1 / $1 / €1
*Read 5 free articles per month without a subscription
Join now for unlimited access
Try first month for just £1 / $1 / €1