Kaitlin Armstrong trial has started: here's what we know
Accused of the murder of cyclist Moriah Wilson, Armstrong faces a life sentence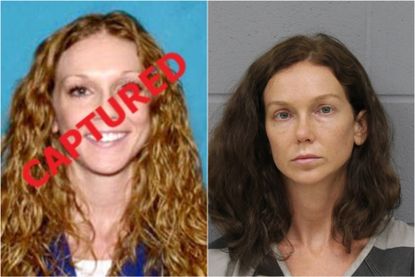 (Image credit: U.S. Marshals Office/Austin City Police Department)
The criminal trial for the murder of cyclist Moriah Wilson that has gripped the nation and cycling world alike gets underway in Austin, Texas, today.
Defendant Kaitlin Armstrong faces a first-degree murder charge along with two felony charges for 'Unlawfully Flight to Avoid Prosecution' when she fled to Costa Rica for 43 days to avoid detention and for her escape attempt earlier this month in which she caused bodily injury to the two officers overseeing her.
In July, Armstrong pleaded not guilty and has been detained at the Travis County Correctional Complex on a $3.5 million bond.
Armstrong is facing a life sentence if found guilty.
The Murder of Moriah Wilson
Moriah Wilson, a 25-year-old up-and-coming talent in off-road cycling, was found dead with three gunshot wounds in her friend's home in Austin, Texas, on the evening of May 11, 2022. Wilson had traveled to Texas to compete in the Gravel Locos race.
The following day, Red Bull athlete Colin Strickland and his girlfriend, Kaitlin Armstrong, were wanted for questioning.
Strickland had been the last to see Wilson. The pair had gone for a swim at Deep Eddy Municipal Pool, followed by dinner at Pool Burger. Strickland had then given Wilson a ride back to her friend's apartment on his motorcycle, dropping her off around 8:30 p.m.
In talking to the police, Strickland revealed that he and Wilson had a brief romantic relationship in the past, while he and Armstrong had briefly broken up, but that after that weeklong romance, Wilson and Strickland remained a strictly "platonic and professional" relationship. Strickland later reconciled with Armstrong, who is both his romantic and business partner.
When Wilson's friend returned to her home around 10 p.m. that evening, she found Wilson unresponsive and covered in blood on the bathroom floor. Wilson was pronounced dead after the arrival of the police.
Minutes after Wilson's return to her friend's house, a neighbor's security camera captured footage of a black Jeep Cherokee pulling up to the apartment. Police matched the SUV to a similar one registered to Strickland and Armstrong's residence.
The U.S. Marshall's office reports that Armstrong sold this vehicle to a CarMax dealership on May 13, two days after Wilson's death and one day after being questioned by the Austin police. She then left the city via the Austin airport on May 14, and when a homicide warrant for Armstrong was issued on May 17, she couldn't be located. Armstrong had fled to Costa Rica, where she was detained after a 41-day fugitive hunt.
The lead-up to the trial
In July 2022, Armstrong pleaded not guilty to the accusations and also wished to exercise her right to a speedy trial, with her legal team, led by attorney Rick Cofer, willing to go before a jury as soon as possible.
However, prosecutors argued that they hadn't yet received all the evidence in the case, and thus, it was too soon to go to trial.
In the year that has since passed, the prosecutor's office attempted to limit the communications with the media via a gag order. The Travis County District Attorney's Office wanted to prevent both sides from discussing the case in public.
Cofer, however, countered that attempt, claiming a gag order would prejudice the defense due to the narrative of the media.
"All I can ask of the press here is that you not consider everything told to you by law enforcement as confirmed and reportable facts. Simply put, there's a lot more to the story than has yet been heard," Cofer said at the time.
Cofer continued to state that he believed "widespread, biased publicity" makes it virtually impossible for his client to receive a fair trial, adding in a two-hour interview with NBC that "a great wrong was done here. The killer needs to be held accountable. But Kaitlin Armstrong is not guilty."
What will happen during the trial?
Nearly a year and a half since Wilson's murder, ample evidence has been gathered to start the proceedings.
Judge Brenda Kennedy is presiding over the trial, and the first step of a criminal trial is the selection of a jury. The judge, the prosecutor, and the defense attorney will screen potential jurors, eliminating any that may have life experiences or predispositions that may interfere with being able to remain unbiased during the hearing.
After a jury is selected, the opening statements begin. These statements are an opportunity for each party to provide the basic facts and set a general road map of how the trial is expected to unfold.
Witness testimonies and cross-examination will follow. Strickland is reported to testify, as is Wilson's friend.
The defense attorney and prosecutor will then make their closing arguments before the jury leaves to deliberate. The jury can take hours, days, or even weeks to reach its verdict. This verdict is read out loud to the court with all parties present. If found guilty, the judge will pass the sentence. If found not guilty, the judge will acquit the defendant.
On Tuesday, October 30, a jury of 14 was successfully selected. The opening statements will begin at 9 a.m. local time on Wednesday, Nov. 1. The judge has allowed media cameras in the court room for the opening statements, closing arguments and verdict.
The Mo Wilson Foundation
Since her death, friends and family of Wilson have set up a GoFundMe page in memory of the racer. Tributes continue to pour in from across the global cycling community.
Thank you for reading 20 articles this month* Join now for unlimited access
Enjoy your first month for just £1 / $1 / €1
*Read 5 free articles per month without a subscription
Join now for unlimited access
Try first month for just £1 / $1 / €1