'A big ask' for Bradley Wiggins to make Rio 2016 team, according to Sutton
British Cycling's technical director Shane Sutton says Bradley Wiggins' selection for Rio 2016 will be dependent on his times on the track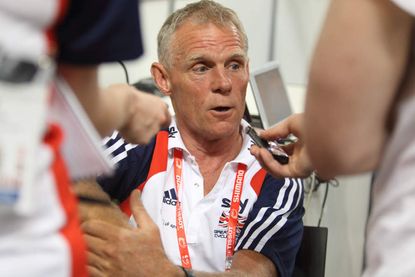 (Image credit: CJ Farquharson)
Shane Sutton admits it's a 'big ask' for Sir Bradley Wiggins to make the British team for Rio 2016, but says again that the star's return to the track is a boost to the team.
British Cycling's technical director told the Telegraph's Tom Cary that Wiggins is currently being judged on his performance in the 2008 games, since when the Brits have knocked more than four seconds off their time.
"My job here is to win medals not friends," he says. "Brad will know that I'm sat here looking at his numbers and thinking: 'Right, Brad, this is going to be a big ask for you to make this team.'
"Listen, Brad has basically got a 55 [3min 55sec] posted to his name from the semi in Beijing. Yes, we did a 53 in the final but were behind the back of the Danes for the last four laps.
"We went 51 in London two years ago. We are going to need to go quicker [in Rio], that is for sure.
"The bar needs to be raised. Whether Brad can raise the bar, that is the challenge he has set himself. Only Brad can answer that question."
Wiggins is likely to forego the second half of the road season in 2015 to focus his time on the track, with an attempt at the Hour Record possibly on the cards.
Having won the World Championships Time Trial title in September and the Tour de France in 2012, Wiggins has his eyes on winning Paris-Roubaix in April to round off his road career.
And with less than two years to go until the Rio Olympics, time is running out for him to get up to speed on the track. But Sutton is backing him to give it a good shot, but insists the final decision will come down to the data.
"It's great that Brad's back," he continued. "Just his presence has lifted the whole team. And the one thing in Brad's favour is that when he sets his mind to something, like he has here – setting up his team, wanting the fairy-tale ending – it is very hard to distract him from the goal he has set out to achieve.
"The final decision will be made purely on the evidence I have in front of me. Brad would want me to make that decision on that evidence. If he makes it, he makes it. If he doesn't, he doesn't."
Source: Telegraph
As details emerge of Sir Bradley Wiggins' British team, we cast an eye over how the squad may function in
Sir Bradley Wiggins tells the Festival of Marketing he hopes his new development squad will drive him for the next
Sir Bradley Wiggins says he couldn't have imagined the current interest in cycling when he started his career in the
Thank you for reading 20 articles this month* Join now for unlimited access
Enjoy your first month for just £1 / $1 / €1
*Read 5 free articles per month without a subscription
Join now for unlimited access
Try first month for just £1 / $1 / €1