British Cycling to create national indoor BMX centre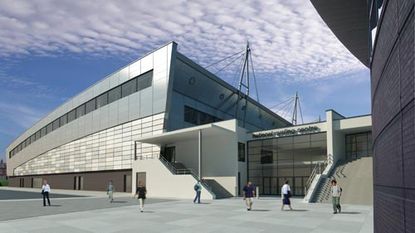 British Cycling is to create a brand new indoor BMX arena and expanded headquarters in Manchester as a result of recent growth in the organisation, and to allow for preparation for the 2012 Olympic Games.
BC will temporarily move out of its current HQ at the National Cycling Centre in Manchester, and create a new office at a nearby business park. The space at the NCC will then be used to host Team GB staff and riders as they build-up to the 2012 Games in London in the adjoining Manchester Velodrome.
As part of the re-vamp, the world's first indoor BMX arena with 2,000 seats will be built next to the velodrome at the site. Subject to funding, work is scheduled to start at the beginning of 2010, with completion in 2011.
"This temporary move will enable the GB cycling team to expand within the Manchester Velodrome and take full advantage of this superb training facility, aiding athlete preparations for London 2012," said British Cycling CEO Ian Drake.
"Today we employ over 200 staff and the organisation is continuing to grow as we expand into new areas such as recreational cycling. The move will enable us to meet the needs of our staff and ensure that we can operate effectively until our new offices are built at the heart of the National Cycling Centre
"The National Indoor BMX Centre is yet another ambitious project that will help assert Britain as the number one cycling nation in the world. Its development will be possible thanks to the exceptional support of our partners - Manchester City Council, New East Manchester and Sport England - who share our vision to turn Britain into a cycling nation," concluded Drake.
All current contact details for British Cycling will remain unchanged.
The world's first permanent indoor BMX track
How the new BMX arena and offices will look after completion in 2011
Thank you for reading 20 articles this month* Join now for unlimited access
Enjoy your first month for just £1 / $1 / €1
*Read 5 free articles per month without a subscription
Join now for unlimited access
Try first month for just £1 / $1 / €1