City unveils plans for 'world-class' cycling and walking route
The £13.4million project has been designed based on best practice in the UK and Europe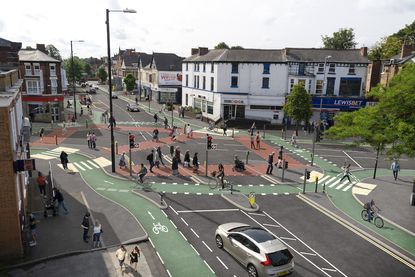 An ambitious new cycling and walking route for Manchester has been unveiled.
Details of the £13.4million project were revealed on Friday morning by Manchester City Council, who are seeking the public's opinion on the plan.
The three-mile Manchester to Chorlton cycling and walking route has been designed using examples from across the UK and European cities, with the input of former Olympian Chris Boardman.
>>> Former golf academy to be transformed with cycle circuit and mountain bike trails
Boardman, now a prominent campaigner and Greater Manchester's cycling and walking commissioner, said: "We want to make cycling and walking the natural choice for short journeys, giving people the freedom not to have to drive.
"That means creating world-class streets where people want to socialise and relax.
"Some of the junction designs proposed are the most advanced yet that we've seen in the UK."
He added: "Manchester City Council and Traffic Council deserve full credit for coming up with such an ambitious and appealing cycling and walking route."
The route will feature Dutch-style segregated lanes for both cyclists and walkers.
Some junction details are still to be finalised, but Manchester City Council has put the plans out to public consultation, which closes on January 11.
The council's executive member for environment, planning and transport, Councillor Angeliki Stogia, said: "Lot's of people have said that they want to walk and cycle more in Manchester and we present this scheme for consultation, as part of our ambition and absolute determination to create a new network of high-quality, safe cycling routes across Manchester."
Cllr Stogia added: "This is already a very busy corridor for cyclists, but the proposed upgrade will make the route much safer and more appealing, encouraging many more people to adopt cycling and walking as their preferred modes of transport.
"Developing better cycling and walking routes is key to our aims of improving local air quality, reducing traffic congestion and encouraging more active travel choices."
>>> Cycle commuters and walkers have the shortest daily journeys, according to new study
The route will form part of Manchester's huge new £1.5billion cycling and walking masterplan that was unveiled earlier this year.
'Beelines' will be the UK's longest complete network for riders and pedestrians, made up of more than 1,000miles of routes, and 75 miles of segregated cycle lanes.
Cllr Stephen Adshead, executive member for environment at Trafford Council, said: "Local air quality and reducing our impact on climate change is really important to making Trafford a great place to live, work and relax.
"The provision of a better and improved cycle and walking route will give residents the opportunity to easily commute in and out of the borough whilst reducing their CO2 emmissions."
The Manchester to Chorlton route was designed by the Transport for Greater Manchester walking and cycling team, alongside award-winning Manchester City Council engineers.
No timescale for the completion of the route has been given.
Thank you for reading 20 articles this month* Join now for unlimited access
Enjoy your first month for just £1 / $1 / €1
*Read 5 free articles per month without a subscription
Join now for unlimited access
Try first month for just £1 / $1 / €1