Contador to stay with Astana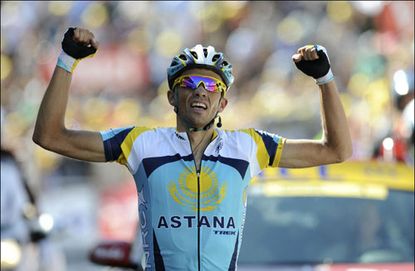 Alberto Contador will stay with the Astana squad until his contract expires at the end of 2010, according to the Kazakh Cycling Federation.
The Spanish Tour de France winner has been at the centre of speculation about a move away from the Kazakh squad for weeks, and has been linked with several other ProTour squads, including Caisse d'Epargne and Garmin-Slipstream.
However, news agency Associated Press are reporting that Kazakh Cycling Federation deputy president Nikolai Proskurin has stated: "We have absolutely no problems with Alberto Contador, and he will compete with Astana next season."
Asked whether Contador will stay or go, Proskurin added: "Certain people, it is unclear who, have completely dreamed this up, but there has been no occasion on which he has made an official statement on this issue."
Speaking to Spanish paper MARCA two weeks ago, Contador said that his continuation with Astana in 2010 hinges on whether the team manages to retain its ProTour license. "Depending on what happens," Contador said. "I'll either fulfill my contract with Astana until the end of 2010, or I'll quit."
Astana's troubles over?
Astana has suffered from financial troubles throughout the 2009 season, compounded by a rider protest during the Giro d'Italia in May where the riders wore blanked-out jersey with sponsors' names removed, and the subsequent mass departure of a significant portion of the squad to Lance Armstrong's new US-based Radio Shack team.
Armstrong rode for Astana during 2009, but did not draw a wage - instead funding himself from personal sponsorship. The internal rivallry between Armstrong and Contador at this year's Tour de France has been well documented.
Earlier in October, Astana announced a three-year sponsorship deal from a Kazakhstan state holding company, which should be enough to satisfy the Union Cycliste Internationale's (UCI) demands that the team has adequate funding in place to retain its ProTour license. However, no decision has come from the UCI as yet.
Contador finished the 2009 season at the top of the UCI's rider rankings after winning the Tour de France.
Related links
Astana secures three-year sponsorship deal
Contador says Caisse d'Epargne most likely team for 2010
Contador finishes at top of UCI ranking
Thank you for reading 20 articles this month* Join now for unlimited access
Enjoy your first month for just £1 / $1 / €1
*Read 5 free articles per month without a subscription
Join now for unlimited access
Try first month for just £1 / $1 / €1