Dave Brailsford: 'I'm uncompromising, and some people can't cope with that'
Team Sky boss hits back at claims that he ran a "brutal" regime at British Cycling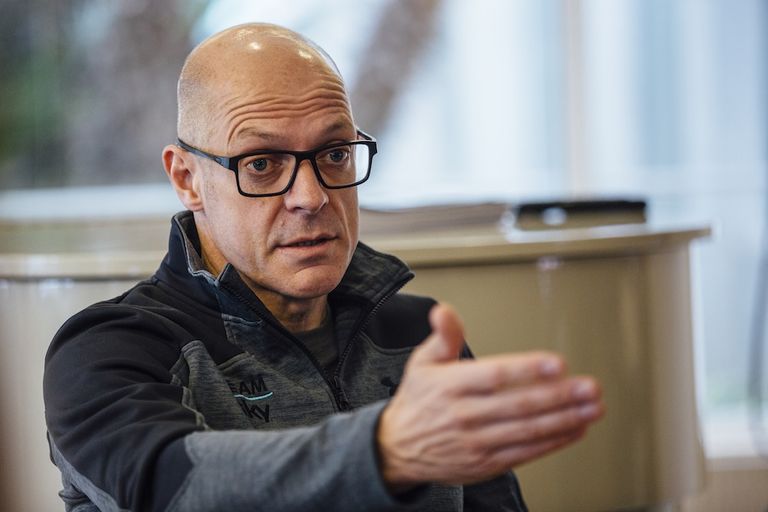 (Image credit: Daniel Gould)
Team Sky boss Dave Brailsford has hit back at claims that he presided over a "brutal" regime of bullying and harassment during his time as performance director of British Cycling.
The claims were made by former British Cycling coach Ken Matheson, who said before Christmas that he had contemplated suicide due to Brailsford's "macho" leadership when he took over at British Cycling in 2003.
However, speaking at Team Sky's pre-season training camp in Mallorca, Brailsford told BBC Sport that he had no regrets about how he acted.
>>> Dave Brailsford: 'We do things the right way, and we've always done things the right way'
"I am uncompromising, I know that," the 52-year-old said. "Some people can cope with that environment, and some people can't.
"When I took over at British Cycling I tried to push hard. And there were some people I felt who shouldn't be there.
"So you get people who go. I'll never make any excuses about that."
Watch: Dave Brailsford talks to the media at Team Sky training camp
Brailsford left his role at British Cycling to take a full time position at Team Sky in 2014, having worked at both organisations from the foundation of Sky in 2009.
A UK Sport independent review into bullying and discrimination within British Cycling was launched in October, and is expected to report its findings next week.
Matheson was one of a number of former coaches and riders who came forward to give evidence to the enquiry.
>>> Team Sky 'confident' that UK Anti-Doping report will put them in the clear
However Brailsford told the Daily Mail that he was unconcerned by the possible findings of the enquiry, and stands by the methods that he used in pursuit of success.
"We started off as a British team who were second rate — nowhere in the world, attitude of gallant losers — and we thought, 'Actually, no. Why can't we be the best in the world?'
"And to be the best in the world, you have to set some standards. You've got to have some ambition. And then you've got to be pretty full on in terms of making sure those standards are achieved.
"That's not to say you've got to be vindictive or malicious but you do have standards. And I am uncompromising, I know that. Anyone in high-performance sport, that's the environment you create. Some people can cope with that environment and some people can't.
"Those who can't — it's not a judgement, but they shouldn't be in it."
Brailsford is also facing scrutiny by a UK Anti-Doping investigation into alleged wrongdoing in cycling, centring on the contents of a Jiffy bag delivered to Team Sky at the 2011 Critérium du Dauphiné.